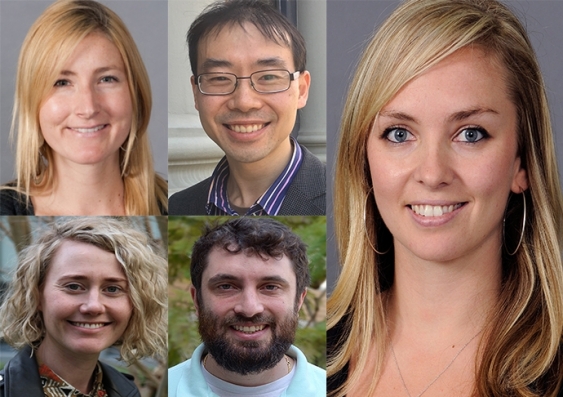 Image: UNSW's 2017 Young Tall Poppy winners

Five young UNSW researchers have won prestigious NSW Young Tall Poppy Science Awards, recognising their commitment to science and their drive to communicate.

The Australian Institute of Policy and Science (AIPS) will honour the up-and-coming scientists at a ceremony at the Museum of Applied Arts and Science, and name one of the nine winners the 2017 NSW Young Tall Poppy of the Year.

All winners will spend a year sharing their knowledge with school students, teachers and the broader community through workshops, seminars and public lectures.

The UNSW winners
Dr Bridianne O'Dea of the Black Dog Institute is examining how mobile technology and social media can improve access to mental health care. She is currently trialling an online stepped-care clinic for adolescents, delivered in schools, called The Smooth Sailing project. It allows for detection of anxiety and depression symptoms, while delivering treatment.

Dr Emma Barrett at the National Drug and Alcohol Research Centre (NDARC) researches mental health and substance use treatment. Dr Barrett's research has shown that young people exposed to life-threatening traumas in adolescence are four times more likely to develop debilitating mental health disorders and alcohol or other drug use disorders.

Also at NDARC, Dr Louise Mewton has partnered with Lumosity to create a "smart games" program designed to prevent harmful alcohol use. The games are designed to strengthen areas of the brain that have been associated with harmful alcohol use, and the research will test whether they can prevent risky drinking.

Dr Louis Wang at the Victor Chang Cardiac Research Institute dedicated his award to his team-members in the Fatkin and Feneley laboratories as well as his supervisors and support staff. Dr Wang, a clinical cardiologist with an active clinical practice, has been involved in studying the mechanism of heart failure using high-frequency echocardiography in living zebrafish.

Dr Matthew Baker of UNSW Science uses pioneering methods in synthetic biology to template and shape the assembly of one of the pinnacles of evolution: the bacteria flagellar motor, an electric motor a millionth the size of a grain of sand can build itself, rotate five times faster than a Formula 1 engine.

The AIPS is an independent, not-for-profit organisation that works to promote excellence in research and innovation, increase public engagement in science and inform and influence policy making.
Young Tall Poppies are nominated by their peers and are early career researchers who have under ten year's post-doctoral experience.
Selection is based on research achievement and leadership potential. Over 500 young scientists have been honoured nationally since the awards were established in 2000.