With the intense nature of the current global climate, those most impacted are often young individuals who have already live with or through trauma. To support these inspiring young adults in forging a path forward, extending their resilience and so moving to a better life by identify hope for their future, we need to tap into motivations that will energise them and guide their mentors, teachers or support crew in the process.
Central to our research is the establishment of measures to assess the core drivers and the impact on them. Utilising Youth Motivational Maps © as an assessment tool over the past many years, it has been a critical framework for our research in this field as it compares the persons current preferred motivational drivers with the level at which they feel they are currently being met. Designed by UK educator, James Sale, Youth Motivational Maps © works on the principle of unlocking young people's nine motivators in order of preference and utilisation. The resulting map, or report, offers personalised insights, reward strategies to re-engage motivations that may be lacking and a motivational zone to support growth mindset and targeted planning.
Working with the Specialised Assistance School for Youth (SASY) in Adelaide, we have effectively profiled and analysed the findings of over 70 students' motivations to result in a map of findings that correlate patterns and so challenges faced, along with strategies to implement. To provide context, established in 2016, SASY is the first school of its type in South Australia registered as a Special Assistance School as articulated in the Australia Education Act that provides an alternative educational setting for students. Catering for students in Years 8 to 12 whose needs are better met by learning structures that may not be available in all mainstream schools, it is a non-government specialised school that follows the national curriculum and SACE. In 2020 the school has 190 students enrolled, an increase from 135 in 2018.
Working with the school, we seek to partner both the staff and students in providing a tangible assessment, constructive strategies and positive tools that will support all parties in improving the wellbeing of some impressive youth working towards restoring self-esteem, identifying opportunities focus, personalising teaching and mentoring interactions and establishing attainable personal goals to deliver a sense of accomplishment for each and every individual. We are grateful to the staff of SASY as well and their amazing students who have allowed themselves to be vulnerable, sharing their current thoughts, reactions and perceptions to support our study.
Key findings
Core to our findings was the breakdown of inherit motivation driver, or cluster. The results clearly demonstrated that as a cohort, the dominant of three potential motivational 'clusters was Growth at 36%. The Growth cluster of motivations is energised by a focus on the future, trusting instincts and having a drive towards what will connect to a future goal, aspiration or vision. Students individual score in this cluster were regularly above 32% with some exceeding 40% in preference. The secondary motivational cluster was Achievement, a focus on the current, requirements, planning and aspirations that will meet current needs and goals. The lowest cluster was that of Relationships, whilst relationships were a key driver in some motivational challenges, it was not an overarching cluster that was dominant, meaning that though the past and those people within lives prior to now were important, they were not the determining factor driving a sense of desire to move forward and achieve in the current time. Individually we did see a few students, less than 5, who had a personal dominant cluster of Relationships.
In reviewing individual maps for each of the participants, there were some common themes and challenges identified.
These demonstrated a series of potential impacts on motivation which included:
Conflicting motivational desires potentially impacting individuals psychologically
Common leading themes that conflict with traditional teaching practices in mainstream education
Specific individual drivers that were regularly identified as low scoring and so unmet
The framework of results is founded in the data relating to the following nine motivational themes as assessed by way of an online survey in which students select from a range of questions. This requires them to make a choice between two situations then at a secondary phase, to compare options to their current situation.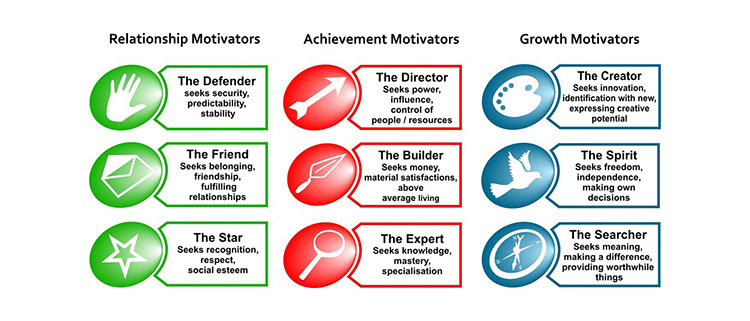 Sale, J., n.d. Mapping Motivation.
Across the group assessment, the most dominant drivers were:
Searcher – Seeking purpose, meaning and to make a difference
Expert – Seeking learning and to gain a depth of understanding in an area of knowledge
Spirit – Seeking independence, freedom and a sense of control of themselves and their actions
The most predominant outcomes from the research are as follows.
Youth seeking connection between current actions and future lives
There was a strong and consistent correlation across all students, aged 15 to 22, between seeking purpose and meaning (Searcher), desiring knowledge, learning and understanding (Expert) and attaining tangible outcomes such as income, qualifications or material goods (Builder). We noted the alignment in that these students, who are frequently classified as 'disengaged' or 'disruptive' in tradition school systems, seek to understand why this is relevant or when they will need to use information being taught. Often seen as disrespectful, the evidence of these findings are that this query is coming from a deep emotional space with genuine desire and intent. Without this connection, these students lose sight of the value and perceive it to be purposeless or pointless which they do not align with.
Lack of feeling influential and secure
The motivations focused on feeling a sense of influence, being heard and in control (Influencer) along with confidence in stability, security and safety (Defender) were frequently rated poorly in terms of being met. Even when the participants had one of these top three motivators, which is essential to engage core drivers, they were often the lowest scores in the rating connecting to the current situation. We see that this is closely related to the youths' lives, past and sometimes present, as these aspects had not provided due to controlling or abusive relationships, negative educational experiences or mental health conflicts. Recognising the alignment to multiple psychologists' basic needs, this sense of security is a founding need which if unmet can flow on to impact other areas of their lives. By default, SASY fills this void and becomes the safe place for these youth to release their past and build their future.
A strong link between the need for relationships and purpose
Our data highlighted that in the younger years, friendship and a sense of belonging (Friend) were often missing and usually impacted through transition into the school which eases during the later years. The connection to past experience leads to many youths having poor trust in others and so being more risk averse to new peers and mentors. In aligning relationships to a higher sense of meaning and purpose (Searcher), students are more able to engage. The low scores on purpose (Searcher) are frequently identified due to a disconnection in their traditional learning environments and their personal values, morals and senses of direction. It is common that we see those with high anxiety and/or depression rating lower in these two areas.
Dissatisfaction with money and material goods
In combination or independent of others, a large proportion of participants, particularly those in the senior years, rated their attainment of material goods, money and tangible outcomes (Builder) as poor or below average. Coming from difficult home lives, living alone or in low socio-economic circumstances, this is not a surprise yet highlights the impact of financial disruption and difficulty on youth, aged 15 to 22 years old, in relation to their openness and engagement in education. Additionally, many students are seeking to establish themselves as young adults leading independent of the adults previously in their lives. Moving away from abusive relationships, damaging people and negativity, money becomes a driving factor that is often out of reach. It is important to note that the material needs in this instance are regularly basic needs such as accommodation, food or a basic income.
Internal conflict between a desire for freedom and a need for stability
Facing situations that force independence at a young age, many of the youth in this study rated their score for freedom and independence (Spirit) as high, often seen by their teachers and mentors, past and present. They were comfortable with change, were creative in their thinking and problem solving, agile in their daily lives. This was frequently in association with a lack of security, safety and stability (Defender), which related to home life, relationships and experiences in previous environments. We did see a correlation between increases in growth in this area following support from SASY, offering flexible learning and daily structures that encouraged routines and security with high levels of freedom.
Interestingly, we found these too contrasting, or polar themes, were often close in importance on the report which is not as common in the general population. When both of these drivers, Spirit and Defender, were in the youths top three motivators, ie were their most dominant motivators, and rated as highlight satisfied, we saw more youth inspired in their daily lives and so engaged in their learning. This internal conflict requiring immense flexibility and confidence in stability, it can lead to a heavy mental weight as youth battle to obtain balance. Once they did gain better harmony in these two areas, we found they were more successful in utilising and building other motivators in their lives.
Deeper select motivators
A fascinating result of our findings was that many of these students have two or three motivators, out of the possible nine, they felt were thriving whilst the remaining motivators were severely lacking. This leads us to believe that the pace and style of the traditional learning environment does not support them in obtaining depth in satisfying their basic needs nor sense of self to then extend to their learning. Gaining confidence through SASY, it seemed that the basic needs were met through the school culture, facilities and ethos, including a higher level of transition and pathway support, informal or formal, in conjunction with the learning path. This depth in less drivers lead to a broader range of potential "gaps" and so the need for a phased approach to developing the individual a as whole based on their personal composition of motivations, personality and interests.
Highly creative free thinkers
A high volume of students rated their creativity and out of the box thinking (Creator) as highly satisfied and demonstrated this in a range of areas across creative arts, music, beauty and performance. The high scoring flexibility and freedom (Spirit) motivator added to this, and was often of a similar level of importance, providing youth with a greater capacity to design, innovate and express themselves. Though this was not usually verbal, in identifying their areas of passion or curiosity and aligning this to learning requirements, students had greater interest in fundamental learning. The traditional school model does not allow for this freedom and so it is common that these youth feel separate and disconnected from their education as they demonstrate intelligence through unique creation rather than repetition.
Next actions and steps
As we implement constructive and tailor conversations, actions and plans for students, we know each individual will grow at their rate. It is our hope that with these insights we can improve the quality of education for youth from trauma or challenging background at SASY and in other institutions through informed data, understanding and genuine compassion. Though the outcomes highlight commonalities, we will approach each student as unique and so truly personalise the style we utilise and the actions we take.
It is interesting that through these findings, we question the correlation between the negative scores in motivation and traditional learning experiences, personal difficulties and lived trauma. With some adjustments to learning frameworks, a culture of inclusion and a dominant focus on relationships in correlation with respect for each individuals sense of purpose, SASY is on track to improve the learning and so lives of many of these youth. We continue to utilise this data and reassess students to customise mentoring, teaching and environmental factors to address deficits and build self-esteem. The assessment process itself encourages youth to remember that today is a moment in time, that we do need to understand ourselves and that we all have challenges to address.
If you wish to seek motivating solutions for your youth or how Youth Motivational Maps © could improve your community, feel free to reach out to us at [email protected]