Geelong is thriving and two-year old Catholic co-ed Iona College in rapidly-developing Charlemont is meeting the demand from families seeking a Catholic secondary education.
Foundation Principal Damian McKew welcomed the school's first 167 Year 7 students in 2020, followed by 160 in 2021 and 233 in Term 1 this year to bring the total to 560. Assuming this continues, the school's original 1300 students forecast looks to be closer to 1500 by 2025.
It's a nice problem to have, Deputy Principal Kylie Power says. She joined McKew at the school in 2021. They had worked together previously in two Catholic schools, and both welcomed the challenge of establishing a new college.
"We have been humbled by our growth in numbers," Power says. "The locals have really welcomed us into their community.
"There has been an increase in families moving from Melbourne to Geelong and the Surf Coast for jobs and the lifestyle. Definitely, the COVID lockdowns have influenced the drift away from the city.
During the initial lockdown at her previous school, student support staff and year level leaders were trying to monitor student wellbeing manually with forms and spreadsheets.
"It didn't work very well, and it was very time consuming."
She found the solution when she read that Educator Impact had launched ei Pulse, a tool designed to check-in on-line with every student, every week, through a simple 60-second check-in.
"We trialled it for a little while during the pandemic and we were impressed with its ability to capture such important student data. It was such as easy platform to use and gave us instant feedback about how our students were travelling in real time. We were one of the first schools in Geelong to take it on.
"When I started at Iona, I implemented ei Pulse straight away and it was quickly embedded into our whole school approach to wellbeing – it's just what we do."
At Iona, Tuesday is ei Pulse Day, when students complete the science-backed engagement and wellbeing questions to give the school statistically significant school-wide wellbeing data.
Power commented: "This week the students did their ei Pulse check-in and out of 560 children one said: 'I need help'. Within an hour that student had been checked in on by student support staff and supports were put into place. Prior to ei Pulse that student may not have had the help-seeking skills to be able to reach out so easily.
"It's an amazing tool for those students that do not have confidence or emotional literacy skills to approach their class teacher."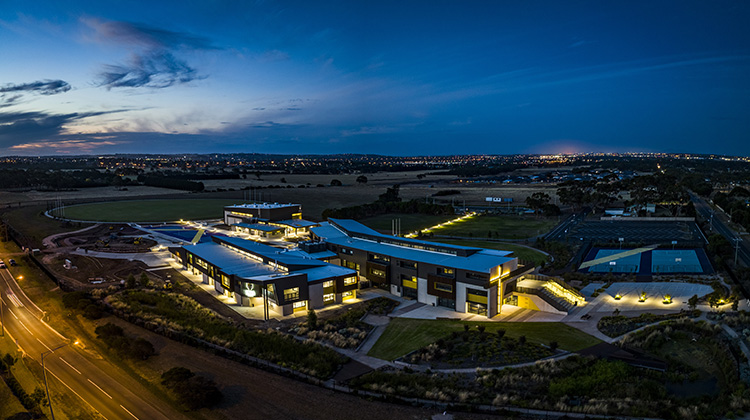 A provisional psychologist works two days each week at Iona and there's a full-time social worker on staff. Both are on stand-by on Tuesdays when the students do their ei Pulse check-in. They look at the data in real time, alerting year-level leaders and the Head of Wellbeing when a child asks for help.
Cumulative data collection identifies trends as they develop for the child, the class, and the school as a whole.
"We have found that our students are getting better about what the help-seeking questions really mean. They can now articulate how they are feeling, when they really need help and support.
"It shows up in the data if a child is not travelling well. We can track them from week to week. For example, if a student has checked in as negative or feeling in the middle for three weeks; it alerts their community group teacher and support staff that it's time to have a chat," Power says. "Anyone that hits the Help button is contacted before they go home that day.
"All of the students know that their name is identified with the first check-in question on ei Pulse when they select from:
• I'm feeling great
• I'm feeling positive
• I'm feeling in the middle
• I'm feeling negative
• I need some help
"The 'I need some help' question allows the student to nominate a staff member they trust to check in with."
Power emphasises that the school doesn't push the children to check in. If they really don't want to, they don't have to.
"Roughly 10 students choose not to check in with ei Pulse, with a few 'repeat offenders' who say 'I just don't want to do it,' and we say that's OK.
"It's important that we normalise help-seeking and give space to those students who are not ready to share how they are feeling."
Students also complete anonymous questions after the initial help seeking question.
"Because the ARACY questions and data are de-identified, the students feel confident that they can share how they are feeling about school, health and other protective factors. If a trend starts to emerge in a class, or a cohort, we can target our responses and that helps us to understand our students better and drill down into the data to find out what is really going on; it's an example of student voice in action.
"At the moment, anxiety is a big issue for many young people, and the pandemic has most definitely had an effect. This is the concern that both parents and students ask the school to assist with. Anxiety has increased in recent years and our data aligns with ARACY's reported one-in-three students feeling anxious," Power said.
"As a new college the data about how students feel connected to the school is really powerful data … it reinforces our belief that relationships are at the heart of what we do.
"Our parents feel confident that their child has the opportunity to seek help each week and students have welcomed the opportunity to express how they feel and have their voices heard."