Touching an unsanitary door handle after washing his hands irritated XUNO school management software CEO Kiki Tanousis ... so he did something about it.
Tanousis and Col Brumley, his long-time adventure travel companion, didn't expect to walk out of the Coppersmith Hotel in South Melbourne with an invention that would spread round the world. But like the virus they are helping to defeat, that's exactly what's happened when they created SafeOpen – a foot operated device that allows people to open doors hands-free.
"It started off with my irritation at having to touch a door after having just washed my hands – I know I'm not alone in that", says Dr Tanousis, a former molecular immunologist. "There had to be a better way".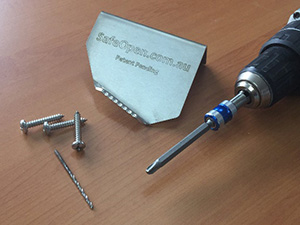 Col Brumley is the owner of Melbourne manufacturer, Advanced Sheetmetal, and an expert in stainless steel. So the two put their heads together.
"There were a number of things SafeOpen had to do" says Brumley. "It had to do the job easily and ergonomically. Next, it had to be deployed swiftly and cheaply. Finally – it had to protect and create jobs."
The protecting jobs part was easy. Within 24 hours the pair had one of the nation's leading law firms on the case, and their Australian creativity is now subject to an international patent. "We didn't want get-rich-quick shysters to scuttle off to a low-cost country and send more jobs overseas" says Tanousis.
And when it comes to creating jobs Brumley is optimistic. "SafeOpen is really easy to fit – we're expecting there will be heaps of new work for chippies, builders and maintenance folk all over the country.
And true to their word SafeOpen door openers have appeared all round South Melbourne, with Albert Park College – where the openers have been installed free by its developers – one of the first sites.
As students start to return to school, school principal Steve Cook is delighted "We have to do our best to reduce risks, not just for our staff, but for the students and by extension the whole community. And our school philosophy is all about local innovation, local creativity and local production," he said.
SafeOpen is made of hospital grade stainless steel and can be installed by maintenance staff or anyone who can use a screwdriver.