The annual Learning Environments Australasia Design awards (LEAD) showcase the importance of the connection of pedagogy and the learning environment. The projects explore how deep research, diligent practice and the willingness of educators and architects to collaborate benefit both our young people and also the communities in which these remarkable facilities are located.
It is clear when reviewing LEAD 2023 that the depth of practice across Australia and New Zealand is something to be proud of. As the peak body for educational facility design, Learning Environments Australasia aims to promote intentional practice that is informed by research, embedded in pedagogy and reflective of the local community.
The innovation behind intentional practice, collaboration and a willingness to be brave demonstrates why learning together as a community will always yield more impactful, inclusive and deeper results.
Please enjoy reviewing this year's award winners and commendations and take the time to reflect on every available typology – from vertical schools to remarkable refurbishments on limited budgets. Each project offers a unique insight into how we as a community can strive to create something that truly reflects the intersection of learning and space.
Daniel Smith, Regional Chair, Learning Environments Australasia
Overall Winner
Genesis Christian College Primary Learning Village and Concept
Bray Park, QLD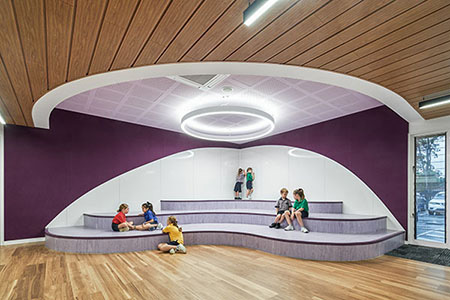 Architect McLellan Bush Architects
Photographer Andy Macpherson Studio
Judges' Comments
Genesis Christian College Primary Learning Village is an exceptional education project that showcases a thorough approach creating a vibrant, modern and student-centric educational facility. The project's outstanding value is evident in its spatial delight and simple interventions, which are clearly a product of careful re-imagining, alignment of the education vision with practical outcomes, and strong engagement from both the College and Design Team.
Category 1 An Innovative Education Initiative
Winner Rosebud Secondary College - Wellness Centre
Rosebud, VIC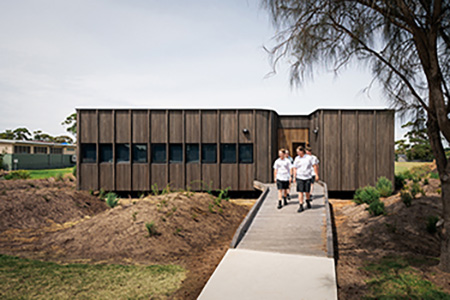 Architect CO.OP Studio
Photographer AP Photo
Judges' Comments
The Wellness Centre at The Rosebud Secondary College is a small but significant insertion onto an established campus to provide unique care and wellbeing support for teenagers. The jury believed the innovation to invest in and create supportive spaces in this facility was outstanding. The design is modest, efficient and evokes a natural response. It is inviting yet private. The warmth of its materiality is comforting and engaging. It provides spaces for retreat, counselling and wellbeing education. The central enclosed garden is calming and allows good natural light penetration and ventilation.
Category 2 New Campus with New Educational Facilities
Winner Greater Shepparton Secondary College
Shepparton, VIC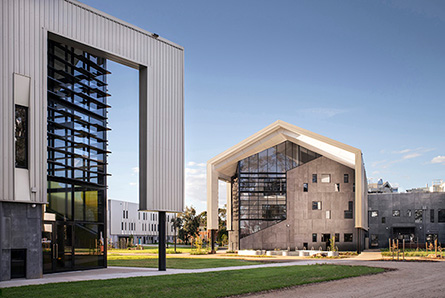 Architect Gray Puksand
Photographer Anthony McKee
Judges' Comments The Greater Shepparton Secondary College is an inspired educational campus, where vision, determination, and rigour are evident in every aspect of its planning. The architects Gray Puksand are to be commended for their highly effective management of the project, as well as their ability to expertly curate the amalgamation of four existing schools onto one campus that fosters a sense of community, belonging, and wellbeing for its 2,700-strong student cohort.
Commendations
Clyde Creek Primary School
Clyde, VIC
Architect Kerstin Thompson Architects in association with McBride Charles Ryan
McKinnon Secondary College East Campus
Bentleigh East, VIC
Architect K2LD Architects
Category 3 New Building(s) or Facilities - Large
Winner Korowa Anglican Girls' School - The Roslyn Otzen Sports & Wellbeing Centre
Glen Iris, VIC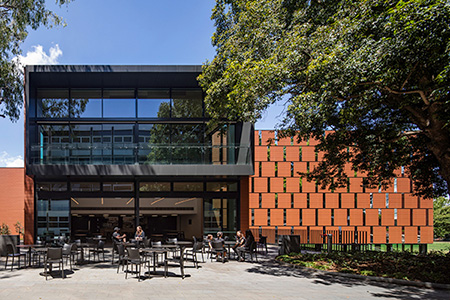 Architect Sally Draper Architects in association with Mitsuori Architects
Photographer Trevor Mein
Judges' Comments Overall, the Roslyn Otzen Sports and Wellbeing Centre is a masterful integration of sports and fitness with positive lifestyle and social connectivity. The building provides a carefully resolved response to the competing needs for wholistic wellbeing, fostering a strong sense of belonging and support in an enduring architectural solution. It is a worthy recipient of the Category 3 award for New Buildings/Large, and a testament to the power of design to improve the wellbeing and learning outcomes of young lives.
Commendations
Macarthur Anglican School - Warren Integrated Studies Hub
Cobbitty, NSW
Architect Mayoh Architects
Meriden School - Greenhalgh Centre for Music and Design
Strathfield, NSW
Architect AJC Architects
Penleigh and Essendon Grammar School (PEGS) - Gymnasium and Events Centre
Keilor East, VIC
Architect McBride Charles Ryan
Port Lincoln High School Redevelopment
Port Lincoln, SA
Architect Russell & Yelland Architects
Category 4 New Building(s) or Facilities - Small
St Cuthbert's Early Years Centre
Lindisfarne, Tas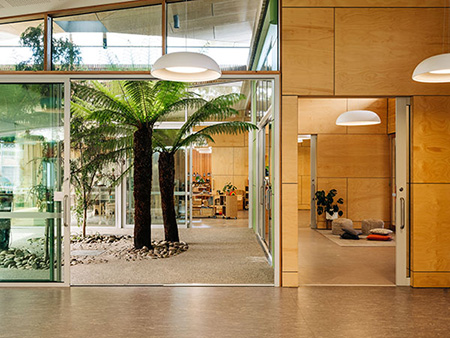 Architect Morrison & Breytenbach Architects
Photographer Adam Gibson; Gabrial Morrison
Judges' comments The St Cuthbert's Early Years Centre is a skilfully crafted facility that is inclusive, flexible and highly efficient; and which support's the school's pedagogical approach with students having a sense of belonging and agency over their own learning. The line between internal and external learning spaces is thoughtfully integrated with extensive landscaping and play zones. The building responds to the constraints of the site, encompasses environmental sustainability and compliments the child-centred pedagogical approach of natural learning through exploration, where the environment is the third teacher.
Commendation
Niddrie Autistic School - Teaching Block & Nature Play Learning
Niddrie, VIC

Architect Guymer Bailey Architects
Category 5 Modernisation - Large
Winner All Hallows' School - The Potter Building Adaptive Re-Use Project
Brisbane QLD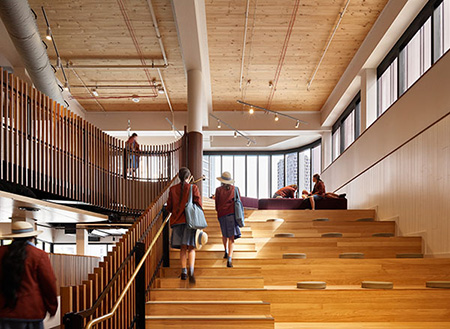 Architect Fulton Trotter Architects
Photographer Scott Burrows
Judges' Comments This project is outstanding in re-purposing a 1970s 4-storey building by optimising its operational and commercial performance. Located in the heart of a busy heritage-listed campus the re-imagined building brings students of all ages and staff together in a range of spaces that contribute to their learning and teaching with an emphasis on health and wellbeing. The Potter Building seeks to redefine the role of a school library, includes multi-modal learning opportunities, and provides spaces in which students can gather, seek refuge, and share ideas.
Commentations
Star of the Sea College - Heritage Wing
Brighton, VIC
Architect PMDL McGlashan Everist
Victorian Academy of Teaching and Leadership East Melbourne
East Melbourne, Vic
Architect DesignInc Melbourne
Category 6 Modernisation - Small
Winner Genesis Christian College Primary Learning Village and Concept
Bray Park QLD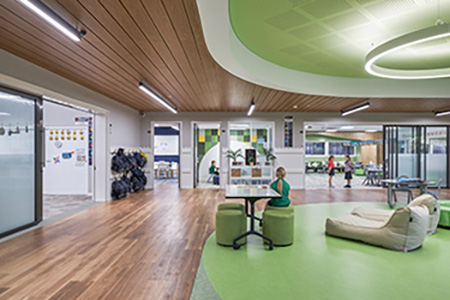 Architect McLellan Bush Architects
Photographer Andy Macpherson Studio
Judges' comments The project is the modernisation of the primary precinct which is part of an all through school. There was evidence of a strong consultation and planning process leading to an outcome which has transformed outdated facilities and reinvigorated spaces to support 21st Century learning. Importantly, the architects not only held briefings with the leadership but also the teaching staff and students.
Commendation
Firbank Grammar Arts Precinct
Brighton, VIC
Architect PTID
Category 7 Small Projects Under $2M
Winner Silverstream School
Silverstream, Upper Hutt, NZ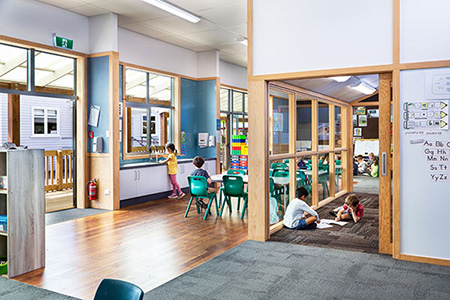 Architect Robertson Architects
Photographer Paul McCredie
Judges' comments The school's approach to learning and their learning framework set a solid foundation for this project, and the depth of pedagogical consideration as a driver of design is very apparent.
This project includes the refurbishment of a pair of Junior and Senior classrooms, as well as the construction of two new Senior classrooms. In all classrooms, the considered designation of space on both the ceiling and ground plane is very effective. Zoning for a variety of spaces has been achieved with floor and wall finishes, ceiling heights and profiles, joinery, and transparent wall elements, while maintaining passive supervision throughout.
Commendations
St Monica's Primary School Refurbishment - Stages 1 & 2
North Parramatta, NSW
Architect Alleanza Architecture
St Brigid's Primary School - Learning Hub & Support Centre
Raymond Terrace, NSW
Architect Alleanza Architecture
Category 8 Landscaping / Outdoor Learning Area
Winner Geelong Lutheran College, St John's Campus - Outdoor Learning Environment
Newtown, VIC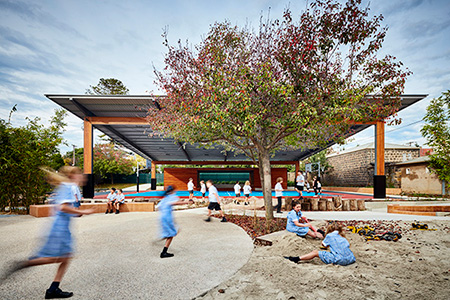 Architect Minx Architecture
Photographer Rhiannon Slatter
Judges' comments The success of this project lies not only in the balanced integration of built form and natural playscape, but also in the clear educational vision that is evident in all elements of the design.
In terms of the natural playscape, the spaces are fully inclusive, biophilic, and the variety of spaces achieved in the project provides choice to the students for experimental and imaginative play. The covered structure is a simple but elegant solution that demonstrates complex thought and consideration behind its detailed design.
Commendation
St Thomas Aquinas Primary School - ELC Naturescape
Charnwood, ACT
Architect Paul Barnett Design Group
Order the 2023 Contemporary Learning Spaces Book
Featuring all 95 projects entered into the 2023 LEAD Awards, it includes plans, photos and project summaries.
View all 95 projects entered into the 2023 LEAD Awards – including the full citations for award winners and commendations:
Learning Environments Australasia brings together passionate educators, designers and planners to investigate and share best practice around effective, engaging and inspirational learning environments for students at all ages and stages.