There are, according to Denis Diderot, "three principal means of acquiring knowledge ... observation of nature, reflection, and experimentation. Observation collects facts; reflection combines them; experimentation verifies the result of that combination".
Augmented Reality (AR) is an exciting, emerging form of experience in which the 'real world' (RW) is technologically immersed with AR for the purpose of enhancing learning potential. AR is defined as an "enhanced version of reality created by the use of technology to overlay digital information on an image being viewed through a device such as a smartphone camera" (Merriam-Webster's Online Dictionary: https://www.merriam-webster.com/dictionary/augmented%20reality).
AR combines the three means of acquiring knowledge, as noted by Diderot. The purpose of this article is to provide a means by which educators and students can utilise the benefits of AR. We provide insight into how learners and educators can successfully create their own learning objects or incorporate a wide array of 3-dimensional (3D) visuals, sounds, and images. The associated AR enhancements through the manipulation of the content, can profoundly impact the learners' experiences and their depth of knowledge.
Research supports the conclusion that 3D AR content combines visual, textual, tactile, with the digital to cognitively and intellectually augment the learning experience. Wang and Dunston (2011) found AR advances performance time and mental effort in collaborative design tasks. Dong, et al. (2013) concluded AR facilitates communication potential. Alem and Li (2011) argue that AR enhances the learning experience by providing collaborative learning potential in a wide variety of educational settings.
Additional findings on using AR for collaboration indicate this technological learning process supports mutual understandings, it provides the means to advance for further explorative discussions, and it also helps to support testing of tacit theories and conclusions (Poelman, et al. 2012). These augmentations can then further help serve to aid and enhance the learners' knowledge and deeper understanding.
A review of the literature on AR in an educational context found some challenges in usability inherent in adopting any new technology. However, there appeared to be a consensus in the related research that the most common conclusion was that AR did help to enhance and advance a keen understanding of the learning and associated experiences (Akcayir & Akcayir, 2017).
The important question to ask: how?
The technological advances that have been taking place in the AR design process have addressed the concern of 'how' to construct AR learning objects or access a repository of existing learning objects. One such mobile Augmented Reality or (mAR) reviewed and adopted, is the Assemblr cross-platform (iOS and Android) mobile app and studio version website (https://assemblrworld.com/) that provides the means to construct and structure 3D interactive design "in less than a minute". There is a free, user-friendly downloadable, and printable Teacher's Guide as well as a YouTube Channel known as Assemblr World with numerous examples of augmented reality enhancing the creative educational process. (https://www.youtube.com/channel/UCMlHs_KbnPecEBtelIUBpSw)
The brief, high quality Assemblr video tutorials allow new and more advanced users to master the intuitive process of creating learning objects. For example, a 2-minute video demonstrates the step-by-step process of creating and using an augmented reality helicopter (Figure 1). A quick examination of the learning inherent in the process of using AR with a lesson would include: kinesthetic learning, audio-visual, computer, cause-and-effect, following procedural directions, and more using the Assemblr app interface.
There is also the option of using a variety of augmented reality learning objects that have already been created and stored in an accessible library. Another example would be the biology lesson of Frog AR (Figure 2). In this 1-minute video (https://www.youtube.com/watch?v=UqS-SZ0ObnU) learners will see and read about the various amphibian systems and no animals were harmed in the dissection process. In other words, learners can view and manipulate the skeletal, circulatory, muscular, and digestive as well as the internal organs of the frog.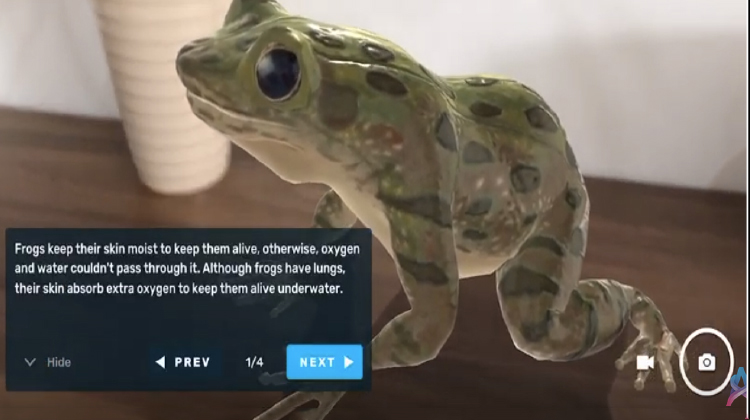 Figure 2. Frog Augmented Reality: Using Assemblr for a biology lesson
This augmented reality process helps to immerse the learner into a setting with the potential for deeper cognitive processing, higher-order thinking potential, all of which then enhances and advances the learning and broader educational outcomes.
Conclusion
As history has shown for, 'since forever' considering and then utilizing adopting any new technology will inherently invoke a learning curve and, consequently bring with it a potential sense of anxiety. However, the process of constructing knowledge, the excitement of satiating one's curiosity about a topic or concept, and the associated anxiety are all part of what learning and life is very much about. As a review of the related AR research consistently points out all of this leads to positive learning outcomes.
Learning and innovation go hand-in-hand. Learning is innovation; innovation is all about learning. While the expected outcome may not always be achieved on the first iteration, the important and profound point to note is that learning is a process and unanticipated results is what brings into existence the exultation and the joy of discovery and shouting: 'eureka!' The process of learning can, as the research points out, be profoundly enhanced with the inclusion of AR in the classroom. We learn by not only seeing and hearing, but by doing. It is this inclusion of AR which allows for further learning potentialities, that can bring into reality additional unpredictable circumstances, advance the creative mind, and enhance the collaborative strategies.
Professor G. Andrew Page welcomes feedback and can be reached at [email protected]