Education in 2020 has seen limitations placed on face-to-face contact and excursions for students– but that did not prevent several classrooms from South Thornlie Primary School in Western Australia from joining a turtle research project more than 1000km north in Exmouth.
They joined in-the-field engineer Nick Mortimer via interactive video conference as he stood on the beach surrounded by his current work associates – a group of sea turtles that had been captured for important research as part of Ningaloo Outlook, a collaboration between CSIRO and BHP to increase our understanding of Ningaloo Reef with $12.4 million (2015-2025) invested over 10 years to conduct research on whale sharks, turtles, shallow and deep-water habitats.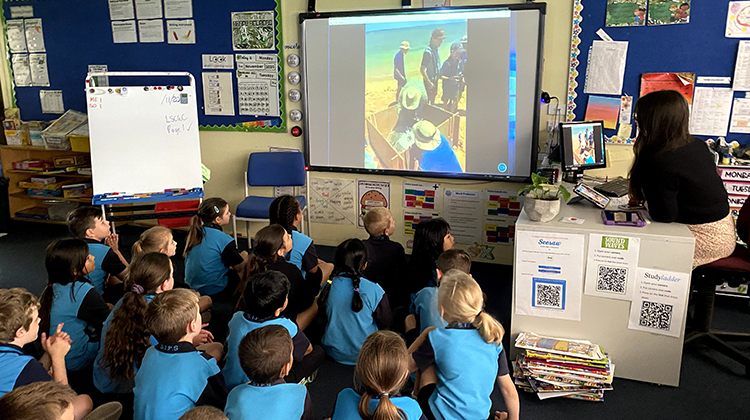 Nick, who works for CSIRO Oceans and Atmosphere, dialled in to the video call to give several teachers and their classes a virtual tour of the research taking place on the beach, where he was based for several days to fly drones to survey the turtles in the water, and to assist with attaching satellite tags for data acquisition. The research sought information on turtle population numbers, diving patterns, nesting locations and more, which Nick was able to explain to teachers and students in real time as the team continued work around him.
Year 2 teacher Chantelle Murray said the students absolutely loved the virtual session with Nick.
"The excitement and engagement that the students showed when they were able to see the turtles on the beach and have an expert in that field answer all of their questions in real time was amazing.
We learned lots of new information about turtles including how they are tagged, how big they can grow and how they are weighed, where they travel and to what depth they can be tracked – it was all new for the students. After the session my class and I discussed the different skills Nick and his colleagues need to be able to do their job. To see someone like Nick, who has a background in electronics and computer science, working with sea turtles was an eye-opener as to how broad the job possibilities can be in those fields."
Chantelle then tied the experience and the insights and excitement it provided into several areas of her class' learning. "We linked this activity with several parts of the curriculum. The students have created information reports about turtles, which we plan to turn into a video. We mapped areas around the world that the turtles travel to. During their reading sessions students discovered the differences and similarities between turtles and tortoises. We did a few activities on the life cycle of a turtle. We also looked at why nearly 90% of hatchlings don't make it to adulthood, which linked into a lesson about human pollution. Lastly, I created a Bee Bot mat which represented the threats that hatchlings face when trying to reach the deep ocean, and the students must code the Bee Bot to safety. The session with Nick has kept on giving in terms of inspiration in class and also the boost it has given to students' levels of engagement."
Nick's partnership with South Thornlie Primary School is a formal one, arranged through CSIRO's STEM Professionals in Schools program. The program is Australia's largest national skilled volunteering program and creates ongoing and flexible partnerships between teachers and STEM professionals to enhance STEM education and engage students in real-world STEM. Nick's partnership with South Thornlie Primary School is new, but he has been part of the program for nearly a decade.
"I've been connected with South Thornlie Primary School's Principal, Megan Barnett, from a former STEM Professionals in Schools partnership with her when she was working at another school where my daughter attended. While there I ran an after-school science club for years 4 to 6, and we did all kinds of things from making water rockets, building crystal set radios, forensic science, and making and testing lie detectors. My children have grown now but I've continued to enjoy volunteering through the program, and Megan and I have reconnected at her new school. I'm excited to see where the partnership will take us next," said Nick.
The feeling is mutual, as explained by Deputy Principal Serena Gosnay: "At South Thornlie Primary School we have recently opened a purpose-built STEM room. This exciting new learning space is currently available for staff and students to use, and we are looking for interesting, innovative and engaging ideas to develop learning in this area. The opportunity to be involved with Nick and this project through STEM Professionals in Schools was exciting and we jumped at the opportunity to be further involved."
STEM Professionals in Schools is funded by the Department of Education, Skills and Employment and run by CSIRO. To find out more or to apply to the program, visit the website: www.csiro.au/en/Education/Programs/STEM-Professionals-in-Schools
For more information on Ningaloo Outlook: research.csiro.au/ningaloo/outlook/