The internet is where kids go to work, play and socialise and they are well aware of the threats that might lurk there; when surveyed, half of the children involved perceive the internet to be more dangerous compared to before the pandemic.
Over one-in-four (29%) have encountered someone online who acted in a hurtful or nasty manner towards them in the past. Worryingly, one-in-five (20%) children couldn't discern if they had been confronted.
That said, around 84% of Australian children indicated that they are 'fully' or 'quite' confident in their ability to avoid online risks. They seemed to have a good idea on what they should do when faced with threats.
For instance, close to 85% recommended seeking advice from parents when approached by strangers online. A majority also expressed being uncomfortable if a stranger were to request photos or videos of them.
While Australian children suggest they are confident in dealing with online risks, more than four-in-five children (83%) said they were very worried about 'accidentally seeing something upsetting or disgusting. With one-in-nine children (90%) worried about 'being approached by adult strangers'.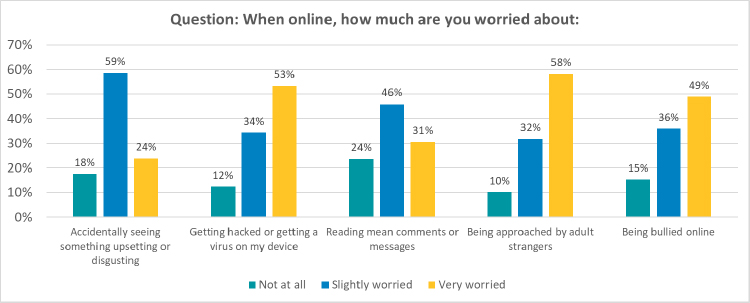 The results are from ESET's, a global digital security company, 'Safer Kids Online' survey, which was conducted among 2,383 children between 6 to 13 years in Australia at the end of 2021 to early 2022. The survey measured the children's cyber wellness, online behaviour and understanding of cyber risks along with their perception of popular social media and games.
"We are pleased to learn that children in Australia are able to deal with cyber risks confidently. While the Internet can be a great resource for learning, it can also pose safety concerns for growing children. The growing prevalence of games and social media in particular can be a source of cyber risks, such as aggression, hate speech in gamer communities and cyber grooming," said Kelly Johnson, Country Manager, ESET Australia.
"With many children being exposed to games early on in their childhood, and to social media websites around the age of 12 or 13 as shown in our study, more needs to be done to keep children safe from cyber risks and from being exposed to inappropriate content online."
YouTube is the Most Popular Internet Destination
When asked about the emotion that they associate with common social media platforms and games, around 86% of respondents said that they feel happy when they hear about YouTube, followed by Minecraft (~82%), Roblox (~70%) and Snapchat (52%).
YouTube was the most popular social media platform with approximately 96% of respondents reported having used it. There was a big gap between the most popular platform and the rest, with TikTok coming in second (~43%), followed by Snapchat (~29%), Instagram (~22%) and Facebook (~17%).
Image by Junior Teixeiria