Learning Environments Australasia is incredibly excited to host the return of our Awards program as a live event at the Regional Conference 8-10 June in Adelaide. Off the back of a sold out conference, our Annual LEA Awards have prevailed as an enduring point of reference to showcase the development of ideas across spaces that support learning. Yearly entries to the Awards program collectively charts the wave of concepts that are jointly explored by educators and designers. Themes become apparent as you explore learning environment solutions that respond to particular regions, climates, sites and education sectors. Importantly, the Awards also demonstrate how meaningful solutions can deliver exciting outcomes regardless of scale or budgets when aspirations by project sponsors are set high and with a good grasp of research.
In this respect, many of the recent provocations from our members on the need to support student agency through a variety of scaled spaces, transparency between indoor/outdoor spaces and the growing interest in vertically integrated learning environments are all concepts that we see unfolding in the projects submitted for consideration in the Awards. Integral to the success of this process is of course the effort of our volunteer judges and administration staff that expend considerable energy to ensure the logistics and integrity of the process runs smoothly and efficiently.
We thank our LEA volunteers and staff, in particular Soraya Ramsey, for delivering another excellent program and an exciting publication for Contemporary Learning Spaces 2022 for your enjoyment!
Marino Rossi
Regional Chair

OVERALL WINNER 2022
Ultimo Public School
Ultimo NSW 2007 Australia

Architects DesignInc Sydney, Lacoste+Stevenson and bmc2, architects in association with School Infrastructure NSW
Photographer Brett Boardman (Photography) and Thierry Lacoste (Photography)

Located in an old industrial area near the Sydney CBD, this school is the result of a comprehensive planning and delivery process that focused on employing clever design strategies to expand the existing school cohort from 300 to 800. Rather than create another high-rise building in a dense urban industrial landscape, the designers decided to keep the students in touch with the environment through a series of buildings on terraces that step down a steep and enclosed site. Each homebase has direct connection to the outdoor environment through an adjoining outdoor learning area, providing flexible learning environments and supporting the school's educational program. This includes direct instruction through to student-oriented learning through collaborative, project-based, outdoor play, and social learning.
The Ultimo Public School features a number of terraced buildings, nestled into textured layers and central arboreal courtyards that are symbolic of the long-term revitalisation of this part of Sydney. These courtyards draw on the metaphor of a cocoon within the perimeter of the school. These ideas are also apparent in the gentle angles of the building, suggestive of flexibility and accommodating a range of pedagogical practices. Also evident was the focus on environmental sustainability in the design, including natural light, cross-ventilation, and efforts to minimise energy and water consumption.
The overall effect is to provide a holistic educational experience for students, the quality of the design reflecting high expectations of the community for the school. This local ownership is another feature, and a range of community uses of the school spaces occur over each week.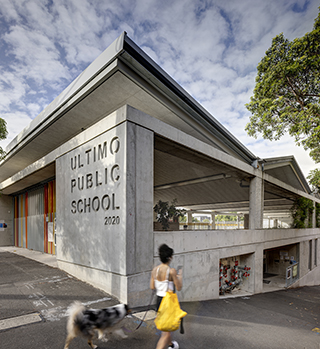 CATEGORY 1: NEW CONSTRUCTION/ENTIRE NEW EDUCATIONAL FACILITY

WINNER
Ultimo Public School
Ultimo NSW 2007, Australia

Architects DesignInc Sydney, Lacoste+Stevenson and bmc2, architects in association with School Infrastructure NSW
Photographers Brett Boardman (Photography) and Thierry Lacoste (Photography)

The design of Ultimo Public School in Sydney emerged from a comprehensive and consultative planning process. The school has a welcoming civic presence and is able to accommodate spaces at a range of scales, ensuring that a diversity of learning and wellbeing needs can be met. The design draws on indigenous and community culture, evident in the thoughtful materiality of the school, and the connection between a diverse range of formal and informal learning moments and experiences. An innovative site strategy optimises the use of all areas and also allowing for future growth, while being sensitive and responsive to the urban setting and the needs of the community.

COMMENDATIONS
Ramlegh Park Primary School
Clyde North Victoria 3978, Australia

Architects DesignInc + Brand Architects in collaboration with Victorian School Building Authority (VSBA)

Merri River School
Warrnambool, Victoria 3280, Australia

Architects Bickerton Masters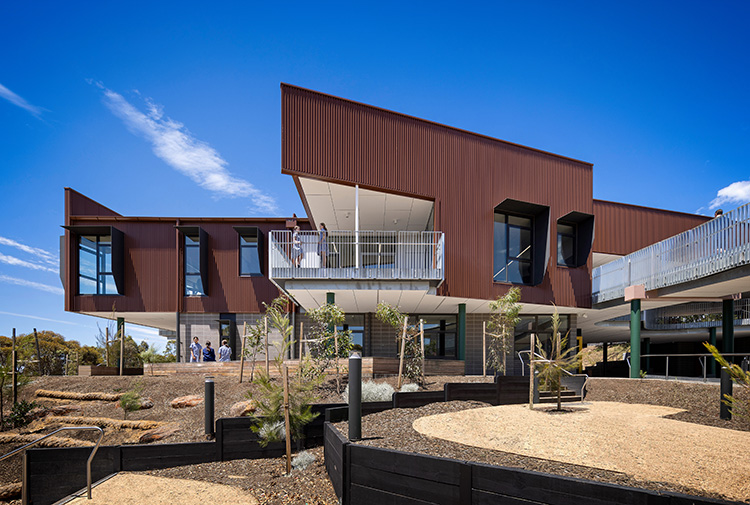 CATEGORY 2: NEW CONSTRUCTION/NEW INDIVIDUAL FACILITY (OR FACILITIES) OVER $8M (AU)

WINNER
Overnewton Anglican Community College Yirramboi Campus - New Middle School Building
Keilor Victoria 3036, Australia

Architects Law Architects
Photographer Dianna Snape

Law Architects have delivered a building that more than successfully reflects the aspirational brief developed by extensive consultation with the school community. The functionality of the design fits seamlessly with the natural environment on a challenging site. It provides comfortable, adaptable and enriching learning environments for students. The design achieves wonderful value through quality finishes, generous natural daylight and sustainability features. The flexible learning spaces have been designed to promote active learning, create interest, curiosity and an excitement for learning for the middle school students at Overnewton.

COMMENDATION
Macarthur Anglican College - Warren Integrated Studies Hub
Cobbitty New South Wales 2570, Australia

Architects Mayoh Architects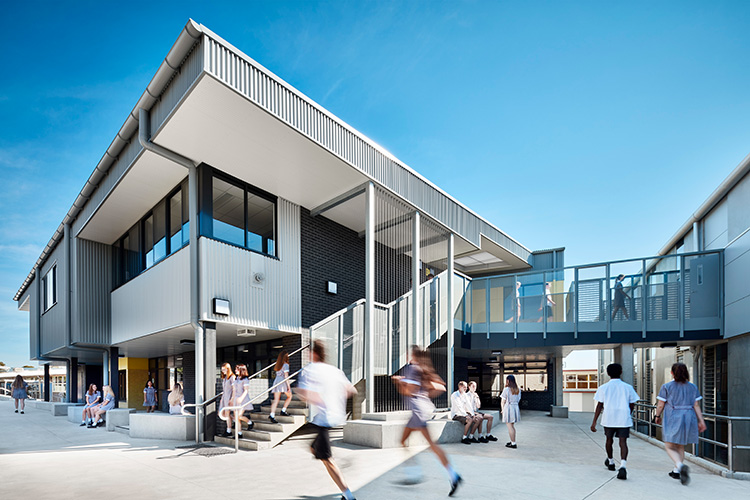 CATEGORY 3: NEW CONSTRUCTION/NEW INDIVIDUAL FACILITY UNDER $8M (AU)

WINNER
Ringwood Secondary College - Senior School Building
Ringwood, Victoria 3134, Australia

Architects ClarkeHopkinsClarke
Photographer Rhiannon Slatter

Generous and light-filled volumes define this carefully thought-out building, which provides a rich variety of joyful spaces for informal interactions, collaborative learning, and standard classroom teaching. A strong consultation process has clearly helped to deliver a purposeful and elegant project, with a memorable 'central hall' that anchors the building and connects various parts of the campus. The project will no doubt fulfil the school's intention to provide deep learning and positive collaboration, and will likely remain as a student favourite for many years.

COMMENDATION
Charles La Trobe Olympic Village Primary School
Heidelburg West Victoria 3081, Australia

Architects Guymer Bailey Architects

CATEGORY 4: RENOVATION / MODERNISATION OVER $5M

COMMENDATION
MLC Dr Wood Learning Centre
Kew, Victoria 3101, Australia

Architects McIldowie Partners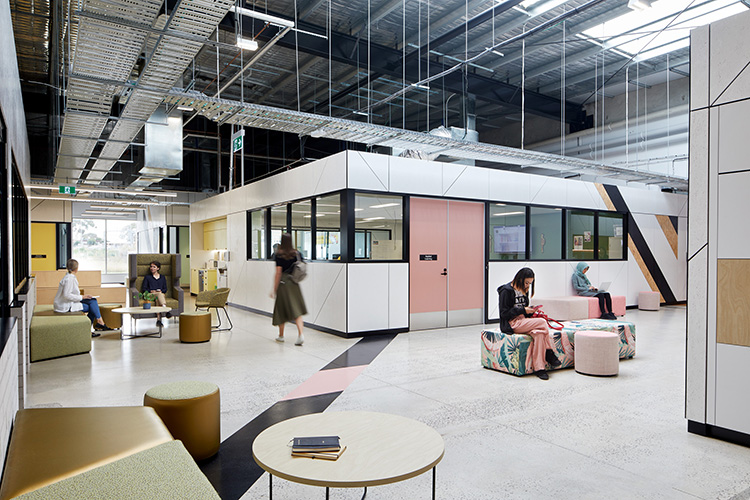 CATEGORY 5: RENOVATION / MODERNISATION UNDER $5M (AU)

WINNER
The Hester Hornbrook Academy
Sunshine Victoria 3020, Australia

Architects Gray Puksand
Photographer Tatjana Plitt

A bold adaptive reuse approach to a disused retail space into a school that offer alternative education programmes and a sense of community for the culturally diverse student cohorts. The design solution of creating a homebase with a centrally focused kitchen with the introduction of biophilic principles offer calm effects towards positive learning and well-being.

COMMENDATION
White Hills Primary School
White Hills, Victoria 3550, Australia

Architects Y2 Architecture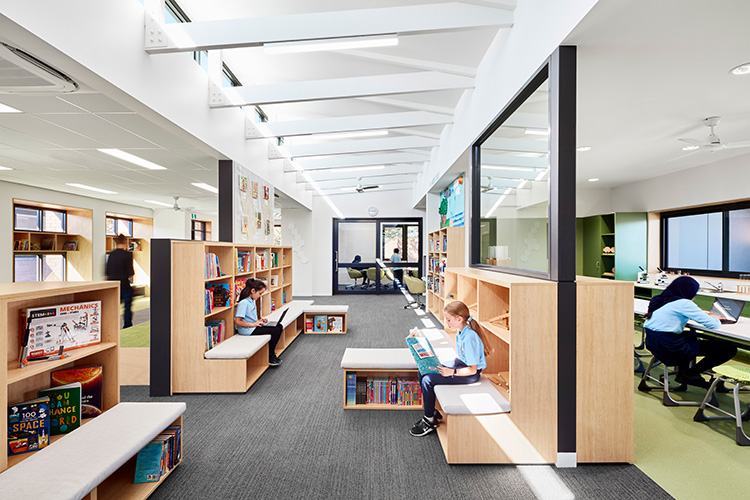 CATEGORY 6: SMALL PROJECTS UNDER $2M (AU)

WINNER
Dandenong South Primary School Discovery Centre
Dandenong Victoria 3175, Australia

Architects ClarkeHopkinsClarke
Photographer Rhiannon Slatter

Dandenong South Primary School Discovery Centre is an imaginative transformation of an existing school library. The Discovery Centre is designed as a multifunctional learning environment to allow students to learn in different ways including digital immersion, while maintaining a connection to nature, and emphasising creative interdisciplinary activities. This is an innovative and effective solution that has resulted in a transformative and generative learning hub that is much loved and used by the students at Dandenong South Primary School.

COMMENDATION
Insight Early Learning Centre, Melbourne
Burwood East, Victoria 3151, Australia

Architects Collingridge and Smith Architects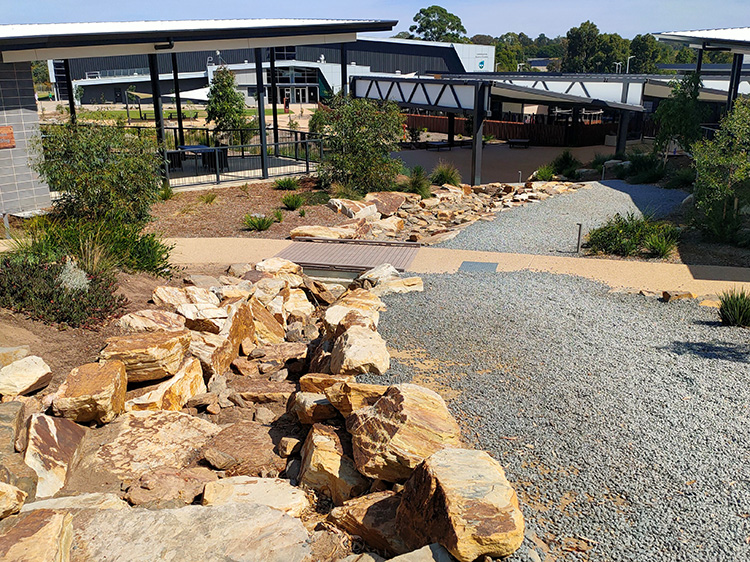 CATEGORY 7: LANDSCAPING/OUTDOOR LEARNING AREA

WINNER
St Francis de Sales Alive Early Learning Centre & Reception to Year 6 Primary School
Mount Barker, South Australia 5251, Australia

Architects Brown Falconer in collaboration with DesignWell
Photographer Tara Graham-Cochrane - Design Well

A dry-stone river landscape connects a variety of outdoor learning activities that wrap snuggly around the built environment to provides a sense of place and belonging. The landscaping is an extension of the overall vision of the school, working with its low-key buildings, with its natural colours.

The landscape softens the school, makes it less institutional and provides a good range of different outdoor learning spaces that are open to interpretation. We did just wonder about more opportunities for shade.

COMMENDATION
Fraser Coast Anglican College – Outdoor Learning Area and Nature Play
Wondunna, Queensland 4655, Australia

Landscape Design Everything Outside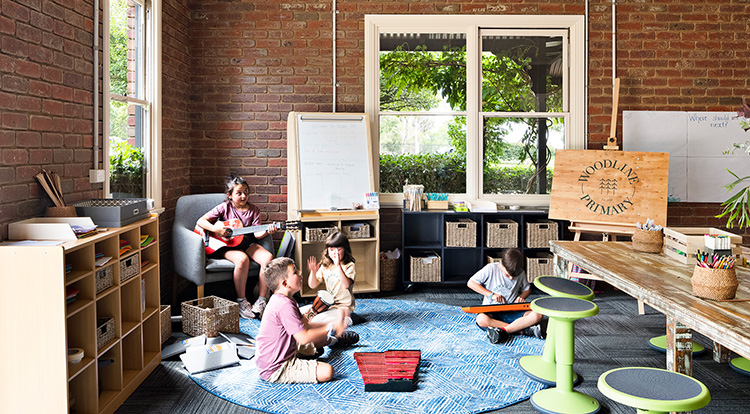 CATEGORY 8: INNOVATIVE EDUCATION INITIATIVE
WINNER
Woodline Primary School
Ceres Victoria 3221, Australia

Architects PTID
Photographers PTID & Woodline Primary

Woodline Primary represents a beautiful example of synergy between a school educational vision, an effective design to serve it, and integration into the surrounding community. The innovation in this project essentially relies on the use of a farm and several outdoor spaces, efficiently serving the priority set on the wellbeing, curiosity, and awareness of the students.
Order the 2022 Contemporary Learning Spaces Book
https://learningenvironments.wildapricot.org/Sys/Store/Products
View the 2022 Entries
https://learningenvironments.awardsplatform.com/gallery/bavlkllY
Learning Environments Australasia – www.a4le.org.au – promotes quality design of learning spaces and professional development amongst a community of educators, designers and decision makers.