Physical education should be taught every day at school because exercise boosts brain size and improves academic performance, a study has shown for the first time.
In the study published in the journal Neuroimage researchers from the University of Granada found that youngsters who took part in exercise for at least three nights a week had more grey matter in areas of the brain linked to reading and verbal communication.
A total of 101 overweight/obese children aged 8–11 years were recruited for the study, with the aim of examining the association between the key components of physical fitness (cardiorespiratory fitness, speed-agility and muscular fitness) and brain structural volume, and to assess whether fitness-related changes in brain volumes are related to academic performance in overweight/obese children.
Half of the children were asked to take part in cardiovascular exercise for 90 minutes, at least three days of the week. Their fitness levels were measured and the volume of their brains recorded at the beginning of the experiment and measurements were taken again at the end.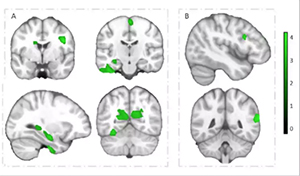 T1-weighted images were acquired with a 3.0 T S Magnetom Tim Trio system and all analyses were controlled for sex, peak high velocity offset, parent education, body mass index and total brain volume. The main results showed that higher cardiorespiratory fitness was related to greater gray matter volumes.
Key findings:
Physical fitness components are positively associated with gray matter volumes in overweight/obese children
Cardiorespiratory fitness and speed-agility affect development of distinctive brain regions
Cardiorespiratory fitness and speed-agility related-changes in brain volumes are associated with better academic performance
Muscular fitness is not associated with cortical and subcortical brain volumes
Physical activity that involves aerobic exercise and motor-agility tasks is important for the brain and academic performance.
"Our work aims at answering questions such as whether the brain of children with better physical fitness is different from that of children with worse physical fitness and if this affects their academic performance", said Professor Francisco Ortega of the university's Sport and Health Institute.
"The answer is short and forceful: yes, physical fitness in children is linked in a direct way to important brain structure differences, and such differences are reflected in the children's academic performance.
"I believe that there is strong evidence supporting the need for PE everyday, since current youth have multiple opportunities to be sedentary, and few opportunities to be active.
"Since 100 per cent of children go to schools, there is no other better opportunity, with equality between families with higher and lower socioeconomic status to promote physical activity than by including PE daily."
Image: University of Granada