Pre- and post-implementation testing by Seven Steps to Writing Success has revealed an average 10% improvement in writing results after 10 weeks use of the writing program.
The Making Real Change in Schools Report aggregated data from over 1740 students who were given a writing test before they were taught the Seven Steps, and then again 10 weeks later, after the Seven Steps had been implemented in their school. Schools marked their students' writing using the NAPLAN Marking Criteria, then the data was analysed.
The data shows that over an average 10-week period:
Students' writing scores improved overall by 10%.
69% of students improved their post-Seven Steps test score by at least 1 NAPLAN band.
The greatest improvements were found in the 'harder to teach' elements of writing: Paragraphing, Character & Setting, Text Structure, Persuasive Devices and Ideas.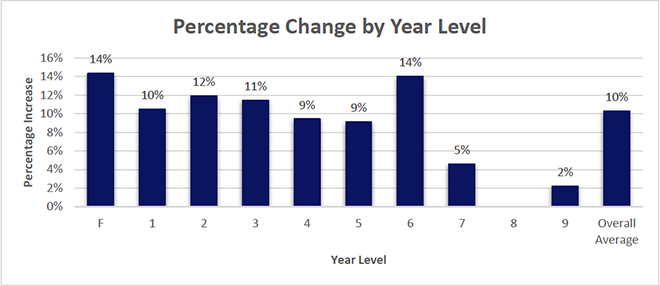 While NAPLAN expects students to improve by 3/4 to 1 1/2 bands every two years * the majority of Seven Steps students improved by the equivalent of two years in writing ability.
In addition, teachers reported other (non-results focused) benefits to implementing the Seven Steps, including increased student engagement and participation during writing lessons and an increased desire to write.
An Australian writing program, Seven Steps to Writing Success has trained over 10,000 teachers from over 1600 Australian schools during 2017-18.
Download the Making Real Change in Schools Report at http://www.sevenstepswriting.com/real-change-report/
* Source: https://www.education.sa.gov.au/sites/g/files/net691/f/interpreting-2018-naplan-results.pdf