Darren Hamley, 2020 Prime Minister's Prize for Excellence in Science Teaching in Secondary Schools winner
To call Darren Hamley, Secondary Science Teacher, Willetton Senior High School, Western Australia an over achiever is about as much of an understatement as saying he is into science teaching, he also happens to be pretty good at it.
The 28-year veteran of one of WA's biggest schools with 2500 students Hamley teaches Year 7 to 12 Science but that's not all, here are some of his achievements.
Hamley has run the school's Gifted and Talented Education Program for 20 years but his ability to engage and inspire students cultivates all students' love of science.
"In 1993, my school principal asked me to come up with an idea for a new program. I said to him that I'd like to start a gifted education program to help our very brightest students achieve their full potential. When the program first started we had 10 students meeting after school. Now we have more than 360 students and 17 staff in the program."
"I really love being a science teacher. What excites me is that I'm not just teaching students science – I'm teaching them to be scientists. I like to give them projects that really stretch their academic legs," Hamley says.
He has established science-based extracurricular clubs for solar cars, chess, Rubik's Cube solving, dolphin and ocean conservation and astronomy, driving the establishment of an observatory in the school's new science building. Willetton Senior High School is now the only public school in Western Australia with a fully robotic, 36-centimetre telescope.
Willeton is one of the few high schools to enter the World Solar Challenge, a 3000 km solar car race from Darwin to Adelaide, under Hamley's direction, and drive a 1000 km section of the Nullarbor twice. Students designed and constructed their own full-size solar-powered car.
Under the Duke of Edinburgh's Award program Hanley takes students to Shark Bay (900km north of Perth) to produce wildlife-spotting brochures, which are designed to help tourists appreciate and conserve the environment.
The PM's Prize is a peak accolade but it isn't his first barbeque, Hamley has received multiple awards for increasing students' awareness and exploration of the environment, and for encouraging conservation through scientific efforts. His awards include the 2019 Murdoch University Ocean Challenge for raising awareness of ocean pollution and the 2015 Department of Parks and Wildlife (DPaW) Environmental Award for restoration of the Western School Prawn population in the Swan River.
"My philosophy for education is that I want students to burst through the door at home and say, 'You wouldn't believe what I did at school today'. I always try to build on the curriculum by exposing students to authentic experiences and inspiring a passion for all things STEM," he says.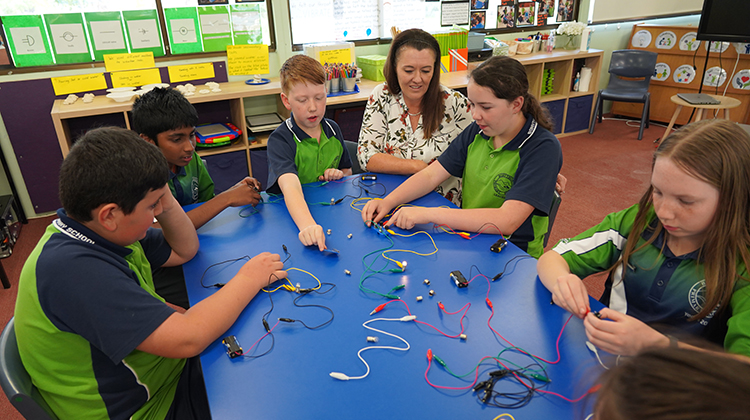 Sarah Fletcher 2020 Prime Minister's Prize for Excellence in Science Teaching in Primary Schools winner
In a busy career, Sarah Fletcher STEM Specialist Teacher, Kindergarten to Year 6 at Bonython Primary School, Australian Capital Territory has put her stamp on the way teaching STEM subjects is done, among a raft of other achievements.
This year, Fletcher 2020 Developed and lead the STEM Specialist Primary Teacher Network to share resources and provide mentorship and a support network (12 teachers participate in the program).
"All children are born scientists. They're full of questions and have a thirst to find answers. My role is to make sure that they never lose that thirst, and to create a safe space for them to voice their questions and work towards answering them."
"What I love about science teaching is that I get to share the excitement with hundreds of kids. Seeing them make connections and understand why things are the way they are – in the world they live in – is like watching them take their first steps. You really can't describe how it feels."
Mrs Fletcher looks to maximise the resources at her disposal to foment inclusiveness, believing that real learning happens when students have an emotional attachment to what is being taught.
Fletcher teaches skills and content that link with real-life experiences, and colours her lessons by inviting working scientists into the classroom, recently she connected a class of Year 1/2 students who were interested in snakes with the ACT Herpetological Association.
As a STEM specialist teacher, Mrs Fletcher works closely with classroom teachers to support the individual needs of each child, including those in Bonython Primary School's two Learning Support Unit-Autism (LSUA) classes.
Fletcher encourages entries in Origin Energy's Big Little Idea initiative, the Science Educators' Association of the Australian Capital Territory's (SEAACT) Science Fair and a design challenge with the Australian National University's World Solar Challenge Team.
She has also facilitated after-school engineering workshops with the Australian National University (ANU) College of Engineering and Computing Science.
"My work is important because science education is an area where a teacher can foster important problem-solving skills that kids will use throughout their lives. I hope to give our children confidence in their science abilities, and allow them to imagine that a career in science is possible."
"My greatest sense of achievement is when I run into former students who are excited to tell me about their success. There's nothing that can come close to sharing in the excitement they have in their achievements."
"The acknowledgment of the Prime Minister's Prizes for Science means so much to me. It is a testament to the importance of education in creating scientists of the future. My hope is that one day no student will ever say, 'I'm not smart enough to be a scientist'."