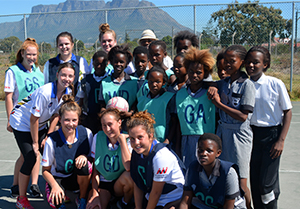 Students from St Stephen's School worked at Jehovah Jireh Haven orphanage in 2016
Applications are now open for the 2017 NGS Super Scholarship Awards. Six scholarships valued at $5,000 each will be awarded to NGS Fund members to help them undertake a professional development course, project, or study tour of their choice.
Anthony Rodwell-Ball, CEO of NGS Super, said the scholarships are designed to help enhance members' careers and ultimately make a tangible contribution to the education sector.
"Our previous years' winners have gone on to do some really life-changing things."
A 2016 winner, Dale Kelly from St Stephen's School in Western Australia, used his scholarship to take 17 Year 10 students on a trip to revamp Jehovah Jireh Haven orphanage in South Africa.
"We've now taken three school trips over to the orphanage where we've retiled two dilapidated bathrooms, paved an entire sports court, built and painted an adventure playground, and created a laundry out of a shipping container," Kelly said.
Due to the tour's success, 26 students have applied for 18 places next year in Dale's school program. The group plans to build a new dining room and kitchen and add lights to the sports court.
Applications are open for NGS Super members until Friday, 1 September 2017, with all winners to be announced on World Teachers' Day – Thursday, 5 October.