Musica Viva In Schools will present a 2018 program that spans the globe, harnessing proven educational benefits on its quest to bring live music to schools. From the rice fields of China to the sounds of Da Vinci's Italy and the childhood games of the Torres Strait Islands, three new groups invite students to explore fresh worlds of imagination. Each show comes with a term's worth of classroom materials and accredited professional development, all tailored to the K-8 age range and designed to enrich music teaching for specialist and generalist educators alike.

"I'm delighted to launch Musica Viva In Schools for 2018," says Michael Sollis, Artistic Director, Education. "Next year we're taking live music into schools all over Australia, from Adelaide to Darwin and from Geraldton to the Gold Coast. Fifteen diverse groups will tour for us with programs ranging from classic rhythm and blues to Japanese drumming."

"We're thrilled to announce three new shows: Water, Water, Everywhere, with music by Grammy-winning composer, Tan Dun; Da Vinci's Apprentice, which brings out the inventor in us all; and Wyniss, a dynamic group from Müa Island in the Torres Strait."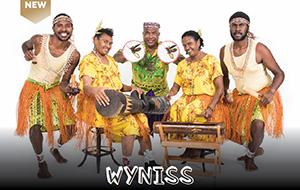 Touring in Victoria and New South Wales, Water, Water, Everywhere evokes memories of a childhood in China, brought to life by percussionist Thea Rossen, clarinettist Luke Carbon and keyboard player Leigh Harrold. Students create their own aquatic music as they come to appreciate that water is a precious resource.

Every child is an inventor in Da Vinci's Apprentice. The show follows a 16th century girl who dreams of becoming Da Vinci's protégée, aided by a trio equipped with the weird and wonderful instruments of the time. With music by Australian composer, Sally Greenaway, and script by Catherine Prosser and Paul Bissett, Da Vinci's Apprentice will visit New South Wales schools in 2018.

"We're excited to share our learning of Torres Strait traditions and skills through music, dance and children's games," says Dujon Niue of Wyniss, which tours Queensland and New South Wales next year. From spinning tops to string figures, this vibrant ensemble shows how culture and history are passed on through singing and dancing. The group joins the hugely popular Dätiwuy Dreaming from Northeast Arnhem Land in raising awareness of Indigenous culture – a goal central to Musica Viva's mission.

A live performance is just the beginning. Drawing on over 35 years' experience in music education, Musica Viva In Schools provides unparalleled support for teachers, with customised activities ranging from interactive resources to accredited professional development, both online and face-to-face. All materials tie in with the Music and Creative Arts Curriculum and provide cross-curriculum links aligned to state and national guidelines. There's also an Extension Program for every need, from residencies to assist with composing a school song to the online resources of Musicassentials, or the Musicadventures series of digital books.

"We believe that every child has a right to music education, and we use our size and experience to ensure our programs remain of exceptional value," says Sollis. We're also proud to provide financial assistance to schools in need due to socioeconomic disadvantage or geographic remoteness. Last year we reached over 280,000 children at 995 schools, a third of them in regional communities."

"For students, being able to see, hear and feel the very best music in their own school can spark a lifelong journey of musical discovery, unlock creativity and help them understand our complex world," he concludes.