Normally presented at the annual Learning Environments Australasia Conference, the 2020 Awards Ceremony was delivered via an engaging video production that highlighted a record 122 entries from Australia, New Zealand and Singapore. Despite the disappointment of having to cancel the annual conference, the Awards were a welcome reminder of everything Learning Environments Australasia celebrates in terms of excellence in contemporary learning spaces.
LEA Regional Chair, Chris Bradbeer, summed up why this year's ceremony was particularly noteworthy. "LEA is an organisation that strives to learn. There is evidence of increasing engagement with research, deepening levels of consultation and collaboration with schools, growing attention towards outdoor spaces, and application of new understandings about materiality and sustainability.
"As an organisation, we lead the implementation of this learning. It comes across loud and clear through the award entries. I wonder how the post-pandemic period will add to this learning? What new understandings will emerge from it? Will it have a lasting impact on the way we think about teaching and learning, and design? Surely there are implications; particularly when we consider concepts of community and belonging, personal wellbeing and human connection. What are we going to be 'dialling up' over the next few years as a result? What will the lasting impact be on learning, teaching and the design of learning spaces?
"And finally, as an organisation, I wonder how we might respond to and continue to lead innovation in these areas?"
All entries are showcased in the LEA Contemporary Learning Spaces 2020 publication and in the 2020 Awards Gallery.
Overall winners (two)
Carlton Learning Precinct, Carlton, VIC
Carlton Primary School and Law Architects Pty Ltd
Photographer Dianna Snape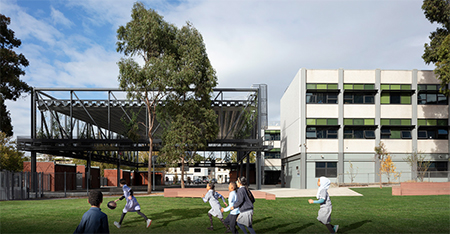 Summary Citation
Carlton Learning Precinct is an outstanding transformation of a prominent but unappealing and underutilised corner school site into a new model for 'whole of early years' health, wellbeing and education. A detailed planning process involving multiple stakeholders resulted in a spatially diverse environment for school and community activities including a covered outdoor learning area in lieu of an indoor physical education space. Carlton Learning Precinct is a truly transformative project that improves the lives of the children and families who engaged directly with its services and is a focal point for community events including weekend markets and local sport.
John Paul College Kindergarten Extension & New Build, Brisbane, QLD
Deicke Richards Architects with Aspect Studios in collaboration with John Paul College Kindergarten
Photographer Mindi Cook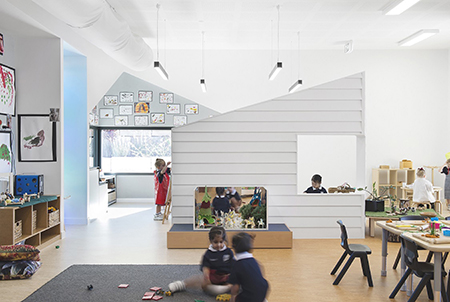 Summary Citation
John Paul College Kindergarten is a delightful expression of Reggio Emilia philosophies in an Australian context. Transparent, child-centred, visually connected interiors bring abundant sunshine into the buildings and deep verandahs create shade for outdoor learning and play. The Reggio 'piazza' is reimagined as an outdoor 'green heart' for the centre and 'ateliers' created to suggest 'a nest' and 'a burrow'. Designed to provoke wonder and curiosity, this child-centred environment is indeed the third teacher in a local context.
Category 1
New construction / entire new educational facility
Winner
University of Waikato Tauranga CBD Campus, Tauranga, NZ
University of Waikato and Jasmax Architects
Photographer Dennis Radermacher, Lightforge Photography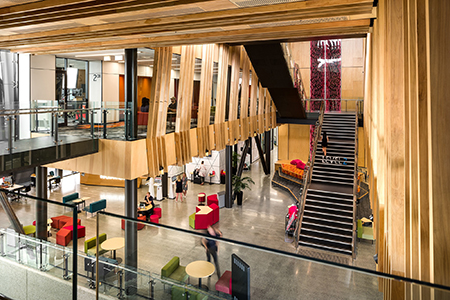 Summary Citation
The University of Waikato Tauranga Campus is a stunningly elegant building that achieves its stated vision to deliver 'a foundational university building in Tauranga, and in so doing ground the project in its sense of place and people'.It exhibits a simplicity in its solution to a complex technical brief with a rich layering of meaning.
The design team is commended for its commitment to genuine engagement with, and attention to the voice of a broad range of stakeholders. The facility is a statement of the importance and opportunity for educational buildings to fully and comprehensively understand and engage with their cultural context to engender a deep sense of belonging. Its cultural response extends from the way this building is knitted into its urban context, through the internal planning to finishes and notable artwork.
Category 2
New construction / new individual facility over $A8m
Winner
Ormiston College - Centre for Learning & Innovation, Ormiston, QLD
Ormiston College and BSPN Architecture
Photographer Christopher Frederick Jones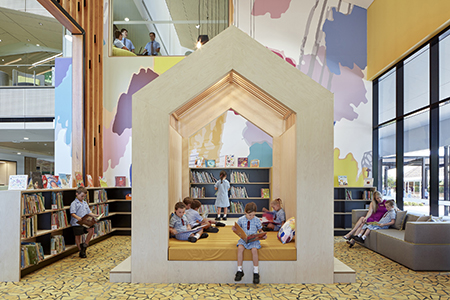 Summary Citation
This project is the result of an extensive, consistent and forward-looking planning process, that set key directions for the upcoming Centre for Learning and Innovation to serve not only the teachers and the students, but also the surrounding community. The relevant approach of re-inventing the former library, and a design that integrates a wide set of services, efficiently organized in a "diverse socio-spatial environments" zoning definitely represent significant assets, that clearly supported this facility to become the epicentre of the College.
Category 3
New construction / new individual facility under $A8m
Winner
Whittlesea Tech School, Whittlesea, VIC
Whittlesea Tech School and ClarkeHopkinsClarke Architects
Photographer Dianna Snape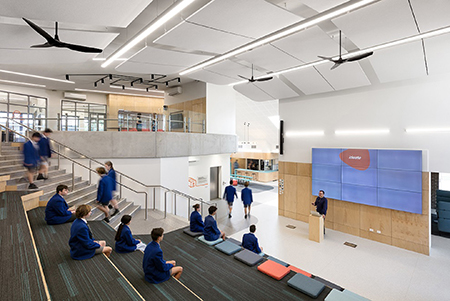 Summary Citation
The dedicated STEM facility at Whittlesea provides state of the art facilities for the local schools to come into an environment that facilitates and inspires innovation. Through detailed planning and diverse project partners including business, industry and tertiary, the facility has been created to engage with students and demonstrate to them the places their knowledge and learning can take them.
Category 4
Renovation / modernisation over $A5m
Winner
Carlton Learning Precinct, Carlton, VIC
Carlton Learning Precinct and Law Architects Pty Ltd
Photographer Dianna Snape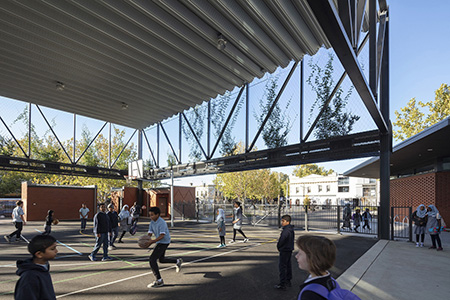 Citation
Equity and unity were clear objectives of the project team this exemplar project. Architecture can be a tool for social change. The Carlton Learning Precinct continues to leap forward as a community builder, incorporating early learning, primary education, family services, a community hub as well as informal recreation and social gathering spaces.
Increasingly, educational facilities are separated from the community for reasons of health, safety and security. The implications of separation are often an unfortunate underutilisation of land, creating dead urban spaces much of the time and reducing the opportunity for community cohesion.
The Carlton Learning Precinct proves that social cohesion is highly achievable if the client group is prepared to look beyond the specifics to the intent of the brief.
The re-use of a three-storey structure could be seen as a less than optimal solution for connectivity. Not so at the Carlton Learning Precinct. The three-storey building created opportunities to balance connectivity with places of particular relationships.
Re-use of materials where possible should be standard practice in renovation. The concept is espoused in ESD planning and at all levels of government. For many years, education providers have redeveloped or created new buildings at the expense of the overall site and its context, seemingly because it has been the easiest way to work. The deliberate decision to re-use rather than redevelop is a testament to the client group's commitment to sustainability in a materials sense and in minimising the footprint on what is already a small site.
Law Architects showed great skill in leading the process, having the patience and humility to incorporate the creative inputs of staff, students, State and local bureaucrats as well as education academics. The participants undertook a creative planning process, introduced design techniques to create flexible and innovative pedagogical and community spaces and allow for orderly management of educational land.
Category 5
Renovation / modernisation under $A5m
Winner
Nanjing International School Early Years Redevelopment, Nanjing, China
Nanjing International School Early Years Redevelopment and EIW Architects
Photographer Sun Jian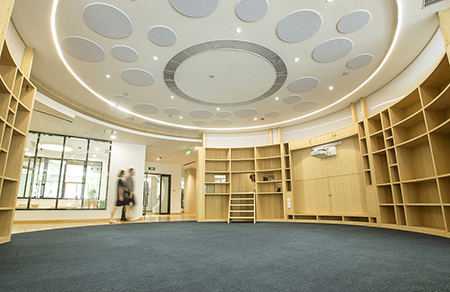 Citation
Student Voice + Choice and Bursting the Bubble within the context of being in China. The objectives of this project in empowering each child and allowing freedom in living and learning have been clearly articulated in the design solution.
The planning process applied universal terms, related to natural experiences to develop a common understanding of the purposes of both connection and relationship spaces. The terms are aspirational and set the tone for nurturing development of the project and the people during the process as well as in the completed place.
The "Project Nest" enabled participants to safely share their thoughts and opinions openly and anonymously throughout the process. The structures of client groups can create the silent majority. Clearly, all views in the Nanjing project are encouraged and respected. This approach reflects the values of the School in learning.
The spatial response is an excellent integration of gentleness and resilience, providing flexibility for students and teachers to grow and discover. The material and furniture choices reinforce the essence of the project.
Creative use of bamboo in cabinetry and landscaping enhances the aesthetics, is sustainable and provides a recognition of place within the world.
The people who use this place will develop within a context which breaks down barriers between culture, whilst respecting the character of the individual. Clearly, the outcome is highly appropriate for an international school. In Australasia, most communities are or need to be able to respond in the same way as the stakeholders in the Nanjing International School Early Years Redevelopment.
Category 6 - Small projects under $A2m
Winner
John Paul College Kindergarten Extension & New Build, Brisbane, QLD,
Deicke Richards Architects with Aspect Studios in collaboration with John Paul College Kindergarten
Photographer Mindi Cook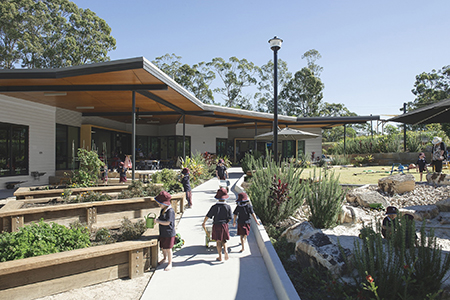 Summary Citation
The design of the new John Paul College Kindergarten facility successfully reflects the Reggio Emilia inspired educational philosophy within an Australian context. It emphasises hands-on discovery learning that allows children to actively engage all their senses, guided by educators rather than directed. In response the project articulates two wonderful internal 'Atelier' spaces in the form of 'The Nest' and 'The Burrow' flanked by an outdoor 'Piazza' connected by generous verandah spaces, inviting an easy transition between indoors and out.
Category 7 - Landscaping / outdoor learning area
Winners (two)
Rawhiti School Outdoor Learning Areas Development Rawhiti School, Christchurch, NZ
Rawhiti School and Kamo Marsh Landscape Architects
Photographer Dennis Radermacher, Lightforge Photography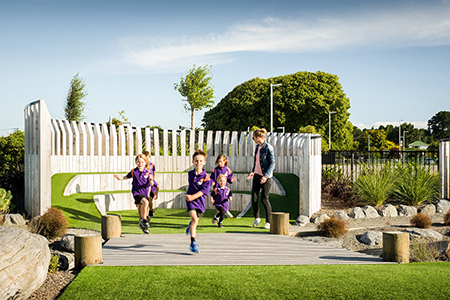 Summary Citation
Rawhiti School's achievement demonstrates the possibilities of what a high-quality learning landscape can offer. A new school with new buildings, it was left with a largely undeveloped bare landscape. Not deterred, the staff and students developed a brief through research and observation. Critically, the brief looked to develop the school's cultural narrative and investigate how landscape can be a calming space, to deal with the stresses of a post-earthquake Christchurch. A rich landscape has been created with a wondrous range of learning and un-prescribed play opportunities; a strong sense of place/identity for the school, and reflective of their culture, location, ecology and climate.
Caloundra Christian College Primary School, Caloundra, QLD
Caloundra Christian College Primary School, and Outdoor Spaces, Greenedge Design Consultants
Photographer Andy McPherson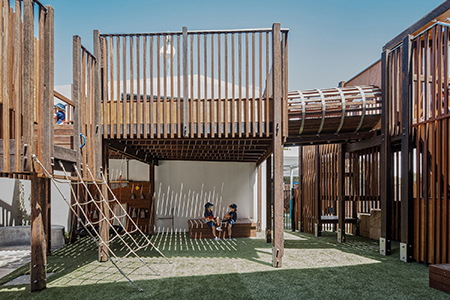 Summary Citation
The Caloundra Christian College Primary School outdoor spaces are expertly designed to provide multiple formal and informal learning opportunities in a restricted space. The clever design maximises the opportunities that outdoor spaces can provide. The school and design team are to be commended on conducting a Post Occupancy Evaluation of the spaces which, through the feedback of staff and students, served to highlight the success of the well conceived design of spaces for free play, encouraging risk and physical activity, sensory engagement, quiet reflection and relaxation in having a noticeable impact on students' social awareness, ability to face challenges, enjoyment of free and imaginative play, hands on gardening projects as well as practical STEM activities.
Category 8 - An innovative education initiative
Winner
Halswell Residential College, Christchurch, NZ
Halswell Residential College and Baldasso Cortese Noordanus/Baldasso Cortese
Photographer Dennis Radermacher, Lightforge Photography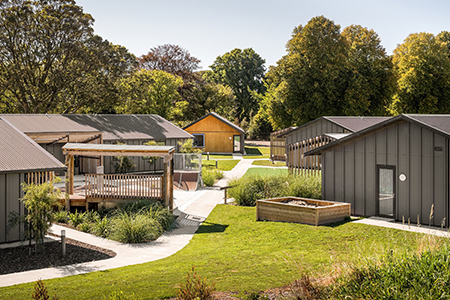 Summary Citation
The Halswell Residential College provides an environment for the delivery of special education to 32 live-in students and their care givers within a residential setting. This innovative project recognises and reinforces the crucial role a supportive home environment plays in successful engagement in learning; providing a safe, secure environment where being part of a community contributes to stabilising behaviour, building life skills, enhancing wellbeing and readiness to learn.