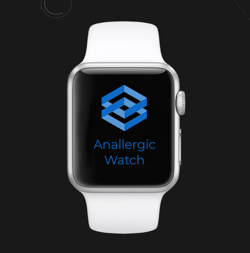 A smart AI anaphylaxis monitoring watch to reduce the fatality rate of children and seniors with severe anaphylaxis sounds like a useful piece of kit and was one of the bright ideas that the design thinking process at the Microsoft AI for Good Challenge yielded.
The AI for Good Challenge is an annual competition organised by Microsoft, Australia in partnership with the Education Changemakers. It is an opportunity for high school students to work in teams on a design-thinking challenge to dream up an innovative idea to solve a global problem using AI technology, while addressing ethical considerations.
Dinel Bomiriya and Gideon Tse from Yarra Valley Grammar near Melbourne, saw the need for an anaphylaxis monitoring watch after they went on a school Asia tour with one of their former classmates last year. Their friend always had to be extremely cautious with what food and drinks he could have during the tour and the teachers would always ask multiple times to make sure he brought his EpiPen.
The boys felt sad for their friend and wanted to find a way to help him and other people with anaphylaxis live a normal life. This sparked their idea for the Anallergic Watch – a smart AI anaphylaxis monitoring watch to reduce the fatality rate of children and seniors with severe anaphylaxis.
"People who encounter an anaphylactic shock can experience low-blood pressure, rashes, cardiac arrest, low oxygen intake, and the effects could be fatal if they cannot inject the adrenaline in time. Our hope and goal are for these people to live without fear and worry about Anaphylaxis with the help of The Anallergic Watch," says Tse.
Dinel and Gideon's team decided to participate in the 2020 AI for Good Challenge competition to further the idea.
First, they participated in an AI for Good online Hackathon run by the Education Changemakers and Microsoft. This taught them a lot about the different aspects of AI and how it is used in the world today.
They then studied four online modules provided by Microsoft to learn about the basic AI concepts; examples of how the AI concepts have been used in the real world, how to manage the ethical concerns of the AI applications and how to organise and present their submission to competition.
Regular meetings were then held after school for about eight months in which the boys used Microsoft Teams to communicate with each other. They went through the ideation process which started with researching a problem, performing root cause analysis, and brainstorming an idea to resolve the problem using AI concepts.
They then delivered a detailed application document and a video to address the judging criteria: 1) articulating a clear and convincing problem, 2) explaining how AI technology can be applied to the idea, 3) addressing all the potential ethical issues and 4) addressing the significance and impact of the AI idea in the real world.
They then met regularly and researched on what similar ideas have been available in the market and how they could make their idea more innovative than all the existing solutions. For example, they combined three separate functions – 1) identifying allergy ingredients in foods and drinks, 2) detecting and monitoring early allergy symptoms, and 3) applying adrenaline in a single compact device together.
The team also worked on different parts of the application document and produced a creative, informative and engaging video to present their idea.
Over 600 teams entered the competition from schools around Australia and the Yarra Valley Grammar team was thrilled that their AI idea was selected as the winner of the State level Championship in Victoria and the first runner-up in the National Finals.
"Absolutely loved your AI idea" said the Victorian Judging panel, "What we really loved as well is the presentation, and the team did a wonderful job in putting all the great ideas together in the video."
The panel also provided some personalised feedback to improve the final submission to the National Finals. Some suggestions included "Go deeper on the Microsoft cognitive services by linking the cognitive services and the APIs to your AI concept and clearly explain to the judges exactly how your concept works using AI" and "Your idea raises many ethical considerations. Research the Microsoft Ethical Principles, specifically Safety and Reliability and address how your product is reliable and safe".
"We learnt a lot about many things, not just how AI works, but also about working in a team. The main highlight for me was the creation of the prototype. It taught me a lot about how we can use technology to help others and make a difference in the world.
"Lockdown in Australia was a strange and unusual time. It changed the way we worked together for the AI for Good Challenge. Even though this closed some doors, it also opened others. The main downside of lockdown was that we could not meet face-to-face. That didn't stop us from working together. We spent hours and hours on video conferences debating our ideas.
"Teamwork is vital. I believe that we worked extremely well together. We had our different opinions on certain ideas, and we debated and came up with better ones. We managed to get an amazing final product of great quality in which we were all immensely proud of. Another exceptionally important thing is the amount of effort you put in. As one of my former teachers said, 'We strive for excellence, not perfection, as we can always get better in what we do'. There were many times when we had to put in extra time and extra effort into our final product, and it came out amazing," says Bomiriya.
"The experience was fun and super valuable which helped me understand how a small idea can solve a real-world problem. I still can't believe that the Anallergic Watch can make a difference among children and seniors with severe anaphylaxis, helping them live a life without fear or worry of anaphylaxis.
"I learned so much during the process, not only about how AI technology can make our world a better place, but also about how ethical concerns like personal privacy and data security need to be considered in our thinking and design.
"This AI competition also allowed me to improve my communication, presentation, teamwork and problem-solving skills. For example, when we had different ideas, I learned to be patient in helping others understand my point of view. I also learned that teamwork is not all about 'me' but it is more important about 'us'", says Tse.