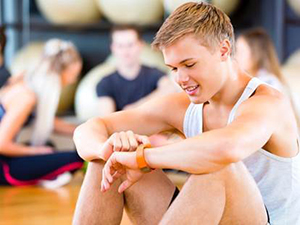 There is an increasing use of healthy lifestyle technologies but little in-depth empirical research on their impacts on young people. Fitbits have been used in schools to tackle rising levels of obesity and sedentary behaviour yet a study published in Sport, Education and Society shows that they might have longer-term negative impacts on wellbeing. This study also found that after an initial increase in activity the impact was not sustained.
Chris Hickey, Professor of Health and Physical Education said "The research provides a timely reminder that technology alone should not be seen as the solution to the complex issue of young people's inactivity. The effective application of fit bits, or other personal health technologies, needs to be integrated as part of a wider curriculum strategy, and not seen as a 'stand alone solution'.
"Within an educational framework, any assumption that allocating students Fitbits and setting them arbitrary targets would provide a self-motivating context to sustain increased physical activity, could be seen as problematic. Accordingly, I would caution against using the research to rehearse a commentary that young people today are 'different'. Set within a program that lacked any individual sensitivity or nuance it is not at all surprising that the novelty of having a Fitbit wore off students had very little commitment to sustained engagement with the devices.
"Worse still, the issuing of Fitbits was coupled to unattainable targets for some students. This was counter-productive and instead of motivating them to be more active, simply provided them with 'more' negative feedback about themselves and caused them to reject the program."
Jennifer Fane, Lecturer in Health and Early Childhood Education commented "When this is considered within the secondary school context of school uniforms which often restrict physical activity and a culture of physical activity being only for those who excel at sport, it is not surprising that Fitbits in of themselves are not 'silver bullets' and need to be carefully considered and appropriated."