It's 10 years in and NAPLAN has revealed one thing: there have been no significant gains in either reading or numeracy.
So what is to be done? Schools that have made the biggest improvements in their students' standards of literacy and numeracy have concentrated on teaching approaches, intensive teaching programs and data.
At Clarkson Community High (CCHS) in Western Australia the implementation of research based approaches, prioritising data and keeping an eye on teacher attitudes has seen the school's NAPLAN scores on the up and up and has made the school a welcoming place where students enjoy, for the most part, the six or so hours they spend there every weekday.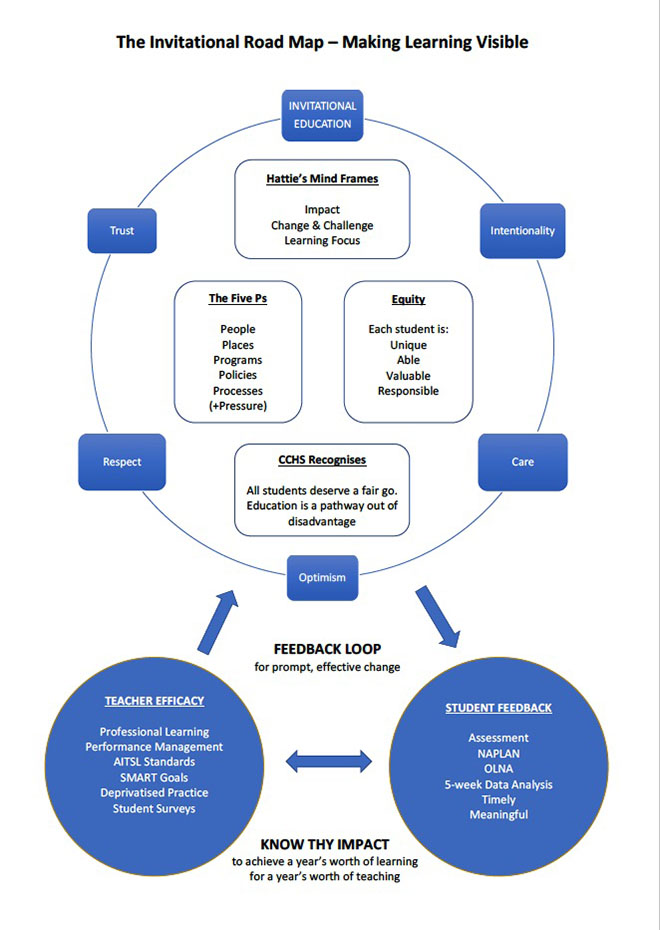 Making learning visible within an invitational framework is central to school improvement at CCHS. Overcoming inequalities associated with the Index for Community and Socio-Educational Advantage (ICSEA) and associated background factors of disadvantage, has provided a challenging context for school improvement and reform.
An emphasis on research and data has focused teachers' attention on the why, how and what of accelerating student learning.

At CCHS the importance of data and equity when making learning visible is always contained within an unconditional circle of intentional respect, trust, optimism and care. At Clarkson the faculty and staff recognize that each student is unique. Each student is able, valuable and responsible and is treated accordingly.

The school is always concerned with the broad array of real life factors in the ecosystem of each student. Test scores and evaluations on standardised tests are secondary to developing decent, healthy, and productive citizens.
Invitational Learning Theory recognizes that it is the people who breathe life into a school and make it flourish. When people in a school use positive psychology underpinned by self-concept theory, school climate is optimized and school culture inexorably improves.
Kogarah High School in Sydney's south is another one of the schools that has made significant gains.
Principal Julie Ross said the school's improvement was because of resources that had been poured into specialist programs.
Each year Kogarah High School in Sydney's south assesses year 7 students and implements intensive learning support for those who do not meet benchmarks for their age.
"We've made large gains because we've used our Gonski money to employ specialist teachers who can run specific literacy and numeracy programs," Ms Ross said.
A report written by Dr John Ainley says improvements in NAPLAN correspond with state government programs. It drew on a review of data by the Australian Council for Educational Research and was the most comprehensive analysis of 10 years of NAPLAN data yet undertaken.
Dr Ainley found there was little change in average NAPLAN numeracy scores at any year level in any state or territory between 2008 and 2017, apart from a brief jump in year 5 scores in 2008-09.
The results were in step with Australia's recent global ranking in mathematics and science, which slipped to 17 from 21 countries.
Dr Ainley's report, commissioned by the NSW Education and Standards Authority (NESA), which sets the school syllabus, found there had been modest improvements among high-performing primary school students in reading due to investments in early childhood education.
The report also questions whether NAPLAN should adjust its focus so critical thinking and problem-solving skills are measured, in line with international tests.