Three of Australia's most familiar faces from TV and the stage gave a packed audience of budding actors, dancers and directors assembled at the Wakakirri Performing Arts Careers Day their advice for establishing a career in show business and it was pretty real; the route is going to be hard most likely, hard but not impossible.
Alex Papps, Michala Banas and Joshua Horner told the crowd that if you muster all of your passion, dedication, talent and toughness there is more opportunity in the performing arts than ever before, it's just that you have to be very single minded to make it.
What became clear was that while there are many pathways that can lead you to a career in the arts there is one constant: persistence.
One person who would know is Alex Papps who's been a feature on our screens for decades now, people of a certain age will remember the Henderson Kids and the youngies will recognise his face from Playschool, one of the most coveted jobs in Australian TV.
Papps is one of the lucky few actors, he also writes and directs, who is constantly in work, but that's not to say that he hasn't seen periods of unemployment and instances of questioning his life choices.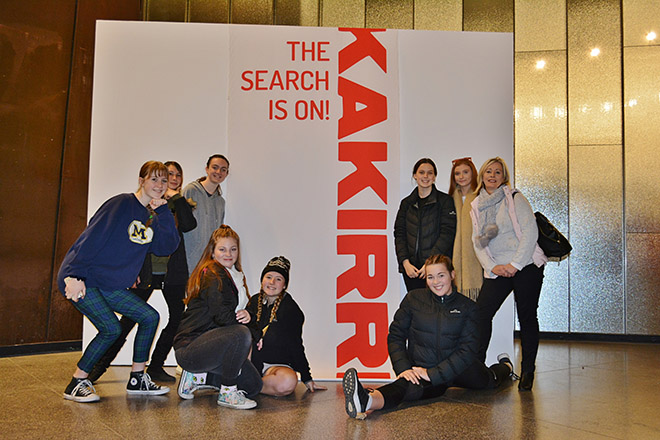 He was very upfront in stressing the importance of mental health when you're forging an arts career, coping with rejection, undergoing long stretches between gigs, staring down negativity. One has to remain strong he believes.
Papps took a circuitous route in establishing his career as we see it today, he began working young and it was not until his mid-twenties that he went to a formal acting school.
"If you are passionate about a career in the arts and you know that it is absolutely all you want to do with your life then you should follow your ambition.
"But it is true that you are absolutely up against it, talent is not enough to get you through, there is an enormous amount of work and perseverance. We've all had to do the job we don't particularly love to support ourselves financially at times but you have to keep yourself mentally engaged, keeping up training, going to auditions.
"Mental health is an incredibly important factor when you're pursuing a career in the arts because you will come up against difficulties. While you are going to auditions and doing the odd acting job you need to keep yourself mentally stimulated, doing workshops and dance classes, keeping a journal, doing some painting…whatever its to keep that part of yourself healthy and stimulated.
"Rejection is part and parcel of the industry, it's not necessarily a reflection of your talent and ability, and at times it will test your strength as a person, your self-esteem and what you think about yourself. So it is very important to have a strong identity separate to your creative self as well and keeping your mind healthy by staying physically active, and engaged."
Papps remembers the advice of an old acting teacher at WACA who maintained that if acting is the one thing that you will make you happy then you should absolutely do it but if there is something else that you can do that will keep you healthy and satisfied you should take that option.
For Michala Banas, another early starter in acting having commenced her career aged two, there are no hard and fast rules and many different ways to do things.
"Do it your way, whatever you decide to do whether it is creative or not, do it your way, I did my first commercial at two and my first film at five and I did my first acting class four years ago. There are no rules in the way you approach your work or life or career, do it because it is something you really love.
"Take George Clooney, he does the Nescafe ads to fund the work that he really wants to do, go find a job that you can enjoy to make money to fund your creative side. If you approach your career as a way of just making money you'll end up not enjoying it," she said.
One great approach according to Josh Horner who has danced all over the world and appeared as a judge on Dancing with the Stars, is to explore everything you can as there is now a surprisingly wide range of opportunity within the performing arts.
"You get pigeon-holed, people might tell us to do just one thing, I said to myself 'I'm going to be an everything dancer'. You guys are lucky now there are so many different versions of dance; you can be an acrobatic dancer in Cirque Du Soleil or in Vegas, you can be a cruise ship dancer travelling the world while not paying tax and taking pictures by the pool, you can be a contemporary dancer, a hip hop dancer or behind Katy Perry.
"There are so many options for you guys now, when I was starting you could either be a ballet dancer or a musical theatre boy, I tried everything," he said.