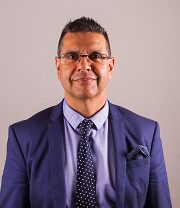 UniSA Prof Lester- Irabinna Rigney, has been awarded a prestigious fellowship through a new collaboration between the University of South Australia and the Menzies Centre for Australian Studies at King's College London.

Rigney is the inaugural recipient of the Aboriginal and Contemporary Australian Studies Fellowship, which he will take up at King's College (KCL) in 2018.

The partnership, formed in May this year, supports fellowships for UniSA researchers in Europe's leading centre for Australian studies. Fellowships are in the broad area of Aboriginal and Contemporary Australian Studies, and will serve to promote deeper understandings of Australian history, culture and contemporary society across the UK and Europe.

Prior to taking up the fellowship, Rigney will fly to London next month to give the inaugural David Unaipon Lecture at The College on Monday 18 September.

His topic, Decolonizing Pacific Schools: Toward an Australian Culturally Responsive Pedagogy? will focus on poor educational outcomes for Aboriginal children and the need for new teaching methods.

"Despite Australia promising to fix the 'curriculum alienation' and teaching methods, learning outcomes for Aboriginal children have not improved since 2008," Rigney says.

"The 2017 Closing the Gap report shows that Australia has failed on six out of seven key measures to bridge the gap between Indigenous children and other Australians, including child mortality, early childhood education, school attendance, employment, and students' reading and numeracy skills.

"The great academic divide between Aboriginal and non-Aboriginal student success at school is an urgent international problem in the Pacific yet there has been no comprehensive review of the teaching methods. This is despite a growing body of evidence that shows culturally responsive teaching improves academic success for Indigenous people in countries such as the US, Canada and New Zealand."

Rigney's lecture will examine how culturally responsive teaching can be implemented in Australian schools with high student diversity, drawing on the experiences that students bring to school classrooms.

A descendant of the Narungga, Kaurna and Ngarrindjeri peoples of South Australia, Rigney has worked in Aboriginal education for more than 20 years. Coincidentally, David Unaipon was also a Ngarrindjeri man.

He is based at UniSA's Centre for Research in Education and was formerly Dean of Indigenous Education at the University of Adelaide.