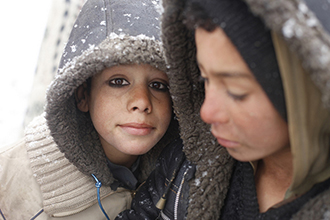 Often refugees don't arrive with much but what they do have in spades is resilience; that will form the centerpiece of a Uni SA initiative designed to play to refugee children's strengths.
Lead researcher Emeritus Professor Bruce Johnson says the approach the project will take is a big departure from the usual models of research in the refugee space, which have tended to focus on individual problems and a notion of 'fixing' refugee children.
Johnson says, "Already this century has been marked by massive displacement and movements of people. Globally today there are more than 65 million people displaced from their homes and over the past five years, over 75,000 people from refugee backgrounds have settled in Australia.
"We know that at least a third of those people are school-aged, and that as Australia commits to a higher refugee intake, schools around the country will face a bigger challenge in nurturing them.
"We also know that some schools are already doing a great job by developing inclusive approaches hallmarked by valuing students' skills and experience, developing a positive welcoming ethos and establishing school environments that feel safe and supportive."
"What we hope to do in this research is develop a better understanding of the strengths of refugee students and the school policies and practices that foster their resilience.
Awarded an Australian Research Council linkage grant of $428,000, together with partner funding of $180,000, the researchers hope to unpack which policies and practices schools are using that nurture the best outcomes for some of our most vulnerable school students.
"How well refugee children cope and flourish is a big issue for Australia, but also globally," Johnson says.
In recent years, negative stereotyping of refugees and the polarised views often exposed in the media and online have skewed perceptions.
"That pervasive negative narrative can act to overstate refugee students' problems and obscure the positive qualities and strengths they have, including their resilience, initiative, experience and maturity," he says.
"Working with our key research partners, we aim to share new ways to create the conditions that promote refugee student resilience and improve the educational and social outcomes for these students."
Partners in the project – How schools foster refugee student resilience – include the South Australian Department for Education and Child Development, the Queensland Department of Education and Training, Catholic Education South Australia, Brisbane Catholic Education, and the Australian Refugee Association.
The research team includes Emeritus Professor Bruce Johnson, Associate Professor Anna Sullivan, Dr Melanie Baak and Professor Roger Slee.