Out of the many ideas presented in the Gonski report 2.0, one is the provision of clear career pathway into leadership and principal roles in schools which will help to attract and retain the best people.
The Through Growth to Achievement report looks overseas for inspiration and the high achieving Singaporean system has featured in its thinking.
Teachers in Singapore can choose a leadership track in consultation with their principal in their third year on the job, and then advance to department head and vice principal. They progress along the leadership track through the provision of milestone courses to equip teachers for leadership roles by ensuring quality standards are met.
Teachers can move across various career paths as long as they meet the standards set at each milestone. The system formalises career progression and gives it structure in a way that isn't present in a lot of systems.
The report acknowledges that leadership is complex and multi-disciplinary so advancement is attended by support and direction which underpin success.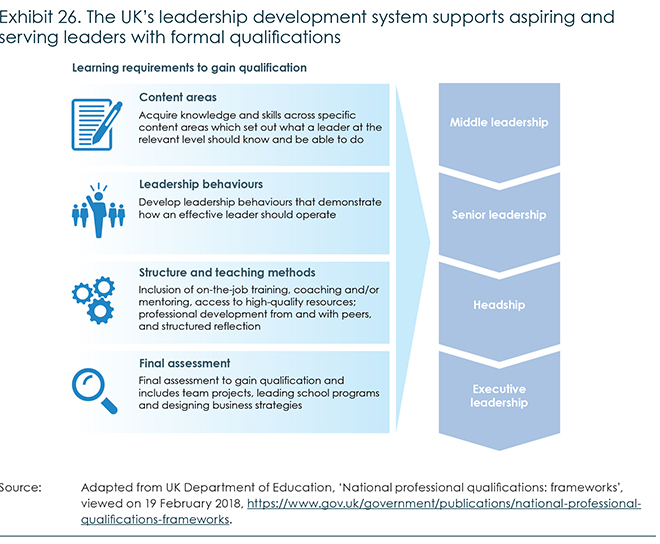 Surveys show that many school leaders in Australia undertake less training prior to appointment compared to other leading countries. Just 23% of Australian principals complete principal training pre-appointment and only 20% complete instructional training pre-appointment.
Shanghai has developed a five-level career ladder for principals. To become a principal, a candidate must first reach certain senior professional levels on the teacher career ladder to demonstrate teaching skills and professional dedication.
Principals with positive evaluations can apply to move up the ranking structure once they have been in the role for a minimum period of time and demonstrated an ability to practise at the next level.
The UK leadership development framework supports aspiring and current leaders through nationally consistent formal qualifications which focus on development of knowledge and skills across specific content areas, and the development of leadership behaviours, with a final assessment required to gain the qualification. The structure and teaching methods include elements of on-the-job training, coaching and mentoring, and professional development.
The report also brought up the issue of peer support for principals. Principals' networks, study groups, mentoring and peer coaching allow leaders to share their knowledge and find inspiration and support through the experience of others.
Australia's high achieving principals should be seen as a resource which can be accessed by others.
Adults learn more effectively when collaborating with peers, and when they can apply their knowledge and receive feedback on their behaviour and learning.
Although collaboration is important, the rate of collaboration with peers for Australian principals is relatively low. Only 59% of principals reported collaborating with principals from other schools in the last 12 months.
The report says that reducing administrative burden on principals can help in establishing networks but it is likely that formal networks need to be established to embed peer collaboration into day-to-day principal practices.