than the share-out Education Minister Simon Birmingham's 2017 Budget plan proposes. The Weekend Australian [May 20-21] has quoted an unnamed source as stating: "It will be a long and sustained campaign based on 'Who do you trust more: the school, the principals or the government?'"

According to the report, NCEC research has examined 72 Catholic systemic schools nationwide, finding 31 would need to raise fees by between $3000 and $4000 a child next year with another 21 requiring increases from $4000 to $5000.
But analysis of the newspaper's list of 20 primary schools listed as "taking the biggest hit" in My School reveals that all have ICSEA values comfortably above the national average 1000 ICSEA [Index of community socio-educational advantage, created by ACARA to enable meaningful comparisons of NAPLAN test achievement by students in schools across Australia].
ICSEA divides distribution of students by quarters: Bottom, Lower middle, Upper middle and Top. While all of the 20 schools have some students in the Bottom and Middle quarters – St Bede's in Red Hill, ACT has 14%, Sts Peter and Paul in Garran ACT has 10% and St Anne's School in Kew East, VIC 12%, schools at the upper end of the ICSEA values have as few as 2–3% in the two bottom quarters including St Cecelia's in Glen Iris, Vic with 2%, St Philip Neri in Northbridge NSW 3%, and Our Lady of Perpetual Succour in Pymble NSW 3%.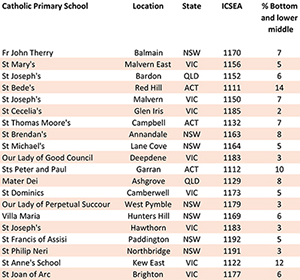 Birmingham met with state and territory Education Ministers on 17 May in Adelaide to discuss Australia's future schools funding arrangements and implementation and hopes of ending schools funding wars with a new Gonski plan, based on the individual need of each school, to be delivered equitably across states and across non-government sectors.

"Our plan means every government or non-government school will receive a common federally funded share of the Gonski-recommended SRS within a decade," he said.

"More than 4500 mostly government schools will benefit from certain growth in their per student funding of more than five per cent every year, for 10 years.
"Over the last two weeks we have released our budget details and outlined what our additional $18.6 billion would mean for every school, making that information publicly available at education.gov.au/qualityschools. We have introduced detailed legislation, to lock this plan into law and give schools long term funding certainty. And we have given states, territories and non-government school authorities detailed modelling tools, enabling them to assess the benefits against projected population growth or other demographic changes."
The meeting ended inconclusively with Labor states and NSW objecting to the plan and NSW Education Secretary Mark Scott emailing state schools "You should not rely on these figures for future planning or budgeting purposes."