Pedagogy is a planned action, designed by human agency that acknowledges the social, political, and moral context of the learning act, which facilitates the acquisition of new knowledge, beliefs, or skills for the learner. This definition is broad enough to accommodate multiple viewpoints:
Pedagogy is a result of human agency, and includes computer-assisted learning.
Pedagogy is an action that allows or causes the learner to acquire new knowledge.
Pedagogic debate and pre-service training is often dominated by compliant dialogue as ideologues disguise their political-social biases as rational argument about best pedagogy. And, as the so-called teaching (pedagogic) wars are still bubbling away in Australia, and it detracts from students' learning, and the public's perceptions of the quality of Australian education.
In this paper the authors argue for the application of a broad range of pedagogies that best fit the lesson, or part of the lesson being taught in each situation. This plea is about the broadening of teachers' pedagogic skills so that the students from disadvantaged backgrounds can be empowered with the knowledge and skills to succeed in school, and not be relegated to life in the "wombat" groups, working at a reduced level of expectation.
Tiger Woods's Golf Bag
The contents of Tiger Woods's golf bag are important to education. Tiger Woods was a champion golfer, and like all of us learnt to play golf using perhaps five clubs, and then he built on the competence that he had developed until he could master all of the types of clubs ever made. On a good day, Tiger, like all professionals, will have the maximum 14 clubs in his bag, and these will vary depending on the environmental factors at the particular course being played.
In pre-service school-based experience, prospective teachers are introduced to the pedagogic equivalent of about the five clubs, which are enough to get the novice around the course without much style. Over time, with lots of birthday presents, and with the increase in skills, the novice golfers not only add to their club collection, they become consciously skilled in knowing when to use the clubs they have available. Unlike the golfers, teachers do not go into the pro shop and purchase the new club and then spend hours practising on the driving range. For teachers, the selection of new pedagogic strategies is not as simple as for the golfer picking up a new club, because there are no pro-shops selling all of the pedagogies that beginning teachers could ever need. And, new pedagogic strategies are often forced into teachers' practices as the latest cult seeps into their classrooms, with little or no explanation or guidance in how to use this new strategy beyond a 'fly by wire' experience
As with golf, many teaching neophytes quit after a short time, and they never get beyond the basic range of skills. However, the context of teaching is changing and education in our schools is moving from the well-known course on which teachers have practised for the last ten years or more to a more focuses teaching role. So, we now need to re-examine our pedagogic club selection and learn and to practise a new set of pedagogic skills. We need to understand that while it is possible to play the course using our first five clubs, we can get much better results and provide students with much better opportunities by using different clubs. It appears that the student-centred approach that many of the newer teachers have grown up with, will not get through this next push into new basics of the Twenty First Century, so it is now time to visit a specialised pedagogic pro shop!
In identifying the full range of pedagogic strategies available to teachers it is important to remember that one size, or method will not fit every educational situation, and this is the mistake that ideologically and poorly trained educators make. A teacher cannot apply EDI (explicit direct instruction) or collaborative learning, totally, to every situation, in every classroom, every day however, understanding 'when' of pedagogic strategies is as critical as the 'what'.
Getting started
The main point of this paper is that students need teachers who can use a variety of pedagogic strategies that best fit the classroom situation. A round of golf is similar to teaching a lesson sequence, and a professional golfer might get away with using just one club (say, a putter) for a whole round, but the results would not be as good as having the option to use all 14 clubs.
Audit teachers' pedagogic skills
In each of our schools we realised that our teachers had been heavily exposed to the collaborative learning processes (based on constructivist learning theory) during their preservice training and then during the systemic push that was referred to as "Outcome Based Education". The pedagogic skills of teacher directed learning were frowned upon and the teachers were required to become the guides on the side. The downside of this purist approach was that we felt that we failed our most vulnerable, disadvantaged students, and the NAPLAN results showed that. Basically, we believed that the middle-class kids who had caddied for parents around the private golf courses dotting the greener suburbs already had grasped the basics of playing golf, but for kids who had never seen a golf stick we required a more explicit teaching approach. Schooling was no different, and we needed an appropriate level of instruction to get our students to a level of competence, quickly. We needed to find a way to give our kids access to the golf course in the first instance so that they were able to start playing.
Reskilling teaching staff
On reflection we should have done the audit of teachers' pedagogic competency more formally, however, in the rush to ensure our students were brought up to speed as quickly as possible, we grabbed pedagogies that would turn around student learning deficits very quickly. In literacy and numeracy, we promoted explicit teaching, but not always direct instruction, which addressed the immediate pedagogic skill deficits of our teachers and that bumped up our NAPLAN results within three years,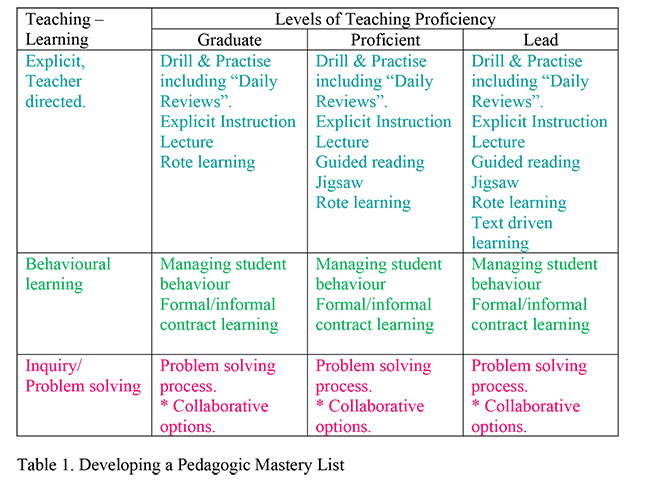 Pedagogic Mastery
Every formal teaching act can be examined against three inputs: teacher ("I do"]; supported learning activity ("we do"); and individual application ("you do") with extension problem solving. The proportions of each of these acts change according to the situational aspects of those lessons. Teachers must decide what contextual demands need to be addressed in each learning situation. See Table 1.
Pedagogic mastery needs to be recognised in the classroom situation.
Signing off teachers' pedagogic skills
Our work in progress is now to develop a mastery list of essential pedagogic competencies that we will expect to see in our classrooms. This approach gives a purposeful focus to the AITSL Professional Standards for Teachers. Further to this it provides the schools' coaching teams, and the teachers, a common understanding of what it is that needs to be developed. It creates a common language for instruction and establishes a true level of school alignment relative to instructional strategies and highly effective teaching.
The work-in-progress for this major project relates to the pedagogic nomenclature, which we are developing.
Conclusions
Our schools have found that the failure of universities to skill their teaching graduates in a range of practical pedagogies is the equivalent of medical schools teaching the theory of the anatomy but not teaching the physical aspects of medicine. Some Universities have begun to broaden students' pedagogic skill base as they realise that their graduates are ill-prepared for the changing landscape of schooling.
Many schools are moving towards creating a more highly effective teaching and learning environment that not only provides their teaching staff with the 9 more golf clubs that they had when they started playing, but also instruct teachers in how to become highly proficient in their use. Returning to our golfing metaphor, to this end teachers are ensuring that the kids who enter our schools are being given the same opportunities to play on the same courses that previously they could only have looked at from outside the fence. In the moral and educational senses we are desperately trying to bridge an achievement gap that has been long accepted in middle class society, and in doing so, we are changing the educational landscape.