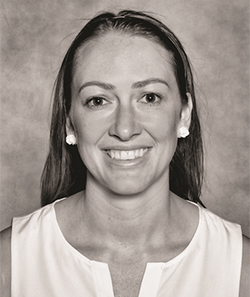 2017 AMSI Choose Maths top award winner, Ashley Stewart, Head of Mathematics at Newton Moore Senior High School, WA believes her Year 8 Living for Learning class is proof hands-on learning works best for indigenous students. Among recent achievements, the girls successfully constructed and tested a hand cranked phone charger.
With NAPLAN 2016 showing 17.4 per cent of Year 9 indigenous students are below national minimum mathematics standards compared to only 2.1 per cent of non-indigenous students, the Newton Moore High School Maths Head's approach is gaining attention.
The WA based teacher received this year's Mentoring Girls in Maths award for fostering engagement of girls, including incorporation of technology and data into interactive learning and leadership of the school's engineering program. The prize, including $20,000 to be shared with her school, recognises her innovative teaching and leadership in empowering girls and indigenous students in maths.
"Ashley is very deserving of this recognition for her commitment to fostering teacher confidence and mathematical success in and beyond the classroom," says AMSI Schools Program Manager and Choose Maths Project Director, Janine McIntosh.
Ten teachers were recognised at the Awards presentation by BHP Chief of Staff to the CEO and Head of Geoscience, Laura Tyler. This year's Outstanding Teacher awards went to Epping North Public School teacher, Keith Barnett (NSW - Primary) and St Aidan's Girls' School Mathematics Head, Patricia Hosking (QLD - Secondary). The pair each received $10,000 with half going to their school's maths program. Seven Excellence Awards, including $1000, were also presented.
Now in their second year, the national awards are part of the Choose Maths project, a partnership between the Australian Mathematical Sciences Institute's and the BHP Billiton Foundation to strengthen mathematics teaching, and foster participation and career awareness of girls and women in mathematics.